WHERE I GOT MY INSPIRATION
by Jennifer Lynne Matthews
I have always written, mostly for myself in the way of journals, so my work has never really been read by others (except by my sister when she stole my diary). When a colleague suggested we write a book together, I was more than excited to jump at the opportunity to have my words read for individuals other than my sister.
We both started our businesses in the fashion industry around the same time, hers was accessories and mine was lingerie. We teamed up and started networking with other designers trying to find the answer to the secrets of running a small business. We passed on our valuable insights to each other and had weekly sewing parties to brainstorm.
As time passed, we both had our struggles and occasionally (in my case, often) we made poor decisions, but what this did for us, was give us an education no college ever had. I opened up a boutique and began to host fashion industry networking groups. She began consulting with small businesses and a few years after that, we formed a business together.
We started a consulting business to coach fashion entrepreneurs on the ways of the industry. Through this, we created a two day workshop as a crash course to running a small business. We received such great feedback and the information was overwhelmingly helpful, so we decided it would work out well as a book.
It was the outline for the course that began our journey into creating Fashion Unraveled. For a few months, we met up weekly and exchanged outlines. This slowly built the outline to around 30 pages. It was at this point, that I began to fill in the blanks and write the chapters. Motherhood took over for my colleague, so I continued the book on my own; although I am forever in her debt for getting me to write it.
When writing my book, I pulled from my business, her business and from my students. You see, I am a

fashion design instructor

in the university system. My students were my ultimate inspiration on the subject matter. So many of my students were graduating without jobs, becoming entrepreneurs was the natural course for them.
Each day between classes, I would have a group of students come to ask me questions about getting a business of their own started. I felt it was important for them to be fully informed and that I had the information that could help them create a successful business.
The books that were currently out when I wrote the book, I felt to be inadequate, outdated or not written for a creative individual. I wrote Fashion Unraveled to be none of those things. I just released the second edition and I plan to update this book every three years with the current status of the industry.
About The Author:
As an educator at the Fashion Institute of Design and Merchandising (San Francisco & LA), Jennifer Lynne Matthews, recognized that there was a need for a step by step educational manual to teach her students on how to start their own business. Consequently, Matthews wrote the first edition of
Fashion Unraveled
in 2008 to provide such educational material; the second edition is due out in early 2011. Matthews, also a lingerie designer and entrepreneur, began her path in the fashion industry in 1994. She attended Florida State University, then the Fashion Institute of Technology in New York City, completing her degree in 1999. With a specialization in intimate apparel, Matthews began working in the industry as a stylist and freelance designer.
In 2002, Matthews opened her own business, Porcelynne Lingerie.
Fashion Unraveled
is built on Matthews' experience in both opening and sustaining a successful business. She brings the knowledge of running a small business and her expertise in the industry into her book and it continues into her classroom teaching.
Matthews has won numerous awards for her designs and has received worldwide accolades for her work, including the Best of the East Bay and the Best of San Francisco Mastermind awards for her lingerie designs. Her most recent project has been on a reality TV show (currently being pitched to networks) as a co-producer and fashion consultant for a lingerie design competition show.
Future plans include authoring a collection of books on lingerie design, draping and clothing construction. She also aspires to open a showroom and education studio in the garment district of Los Angeles.
For more information on Jennifer Matthews and her work, see
http://www.fashionunraveled.com/
and
http://www.porcelynne.com/
.
About Fashion Unraveled: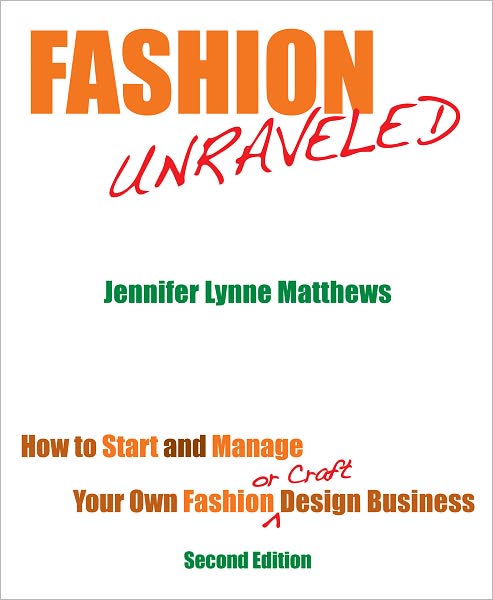 "Fashion Unraveled" offers an inside look into the operations of a small fashion design business. This book offers tips, tools of the trade and valuable insight into the industry. This acts as a guide for developing a customer, market and collection. The book introduces the reader to sourcing and production, as well as explains marketing concepts. Whether the reader is an entrepreneur, designer, student or craftsperson, this book will guide one through the business implementation process.
"Fashion Unraveled" introduces an in-depth look at creating a costing model, solid pricing and realistic budgeting. "Fashion Unraveled" is user friendly and was designed for the creative mind. Chapters are laid out with definitions and web links located in the sidebars of the book for ease in use. The second edition features over 400 pages of information transforming this into the "must read" resource for every designer entrepreneur.
This book offers a new case study feature, following a small fashion business through their business launch, including their business plan. "Fashion Unraveled "also features several designer interviews, including a Q&A with British designer Timothy James Andrews and couturier Colleen Quen.

My thanks to Pump Up Your Book Promotion for arranging for this guest post from Jennifer Lynne Matthews, and for the review copy of this book! I was not compensated for my opinion.