Today I'm pleased to host a book blog tour stop for legendary author, Diana Gabaldon, creator of the beloved "Outlander" series.
About The Book:
Claire Randall is leading a double life. She has a husband in one century, and a lover in another.
In 1945, Claire Randall, a former combat nurse, is back from the war and reunited with her husband on a second honeymoon–when she innocently touches a boulder in one of the ancient stone circles that dot the British Isles. Suddenly she is a Sassenach—an "outlander"—in a Scotland torn by war and raiding border clans in the year of our Lord…1743. Hurled back in time by forces she cannot understand, Claire's destiny in soon inextricably intertwined with Clan MacKenzie and the forbidden Castle Leoch.
She is catapulted without warning into the intrigues of lairds and spies that may threaten her life …and shatter her heart. For here, James Fraser, a gallant young Scots warrior, shows her a passion so fierce and a love so absolute that Claire becomes a woman torn between fidelity and desire…and between two vastly different men in two irreconcilable lives.
My Thoughts:
I remember reading "Outlander" when it was first released in 1991 and being amazed at how thrilling the story was. And a revisit to this classic story reveals that it is still one of the most incredible novels I've read in my lifetime of reading.
Gabaldon combines romance, adventure, para-normal, fantasy and history together for a tale that has proven to be timeless in it's appeal to readers.
Congratulations to Diana on the 20th anniversary of the release of "Outlander." May you continue to have success with your fabulous books for another 20 years or more!
About The Author:
: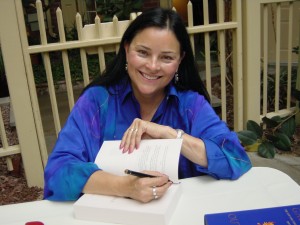 Diana Gabaldon is the author of the award-winning, #1 NYT-bestselling OUTLANDER novels, described by
Salon
magazine as "the smartest historical sci-fi adventure-romance story ever written by a science Ph.D. with a background in scripting "Scrooge McDuck" comics."
The adventure began in 1991 with the classic OUTLANDER ("historical fiction with a Moebius twist"), has continued through six more
New York Times
-bestselling novels–DRAGONFLY IN AMBER, VOYAGER, DRUMS OF AUTUMN, THE FIERY CROSS, A BREATH OF SNOW AND ASHES, and AN ECHO IN THE BONE, with nineteen million copies in print worldwide
The series is published in 26 countries and 23 languages, and includes a nonfiction (well, relatively) companion volume, THE OUTLANDISH COMPANION, which provides details on the settings, background, characters, research, and writing of the novels. Gabaldon (it's pronounced "GAA-bull-dohn"—rhymes with "stone") has also written several books in a sub-series featuring Lord John Grey (a major minor character from the main series): LORD JOHN AND THE PRIVATE MATTER, LORD JOHN AND THE BROTHERHOOD OF THE BLADE, and LORD JOHN AND THE HAND OF DEVILS. Another Lord John book, LORD JOHN AND THE SCOTTISH PRISONER, will probably be published in 2011).
Returning to her comic-book roots, she has also written a graphic novel titled THE EXILE (set within the OUTLANDER universe and featuring the main characters from OUTLANDER), but told from the viewpoint of Jamie Fraser and his godfather, Murtagh. The graphic novel is illustrated by Hoang Nguyen, published by Del-Rey.
Gabaldon is presently working on the third Lord John novel (LORD JOHN AND THE SCOTTISH PRISONER), and the eighth book in the OUTLANDER series. In addition, she is working on a contemporary mystery series, set in Phoenix, and has written Highly Scholarly Introductions (with masses of footnotes) to recent Modern Library editions of Sir Walter Scott's IVANHOE and Thomas Paine's COMMON SENSE.
Dr. Gabaldon holds three degrees in science: Zoology, Marine Biology, and Quantitative Behavioral Ecology, (plus an honorary degree as Doctor of Humane Letters, which entitles her to be "Diana Gabaldon, Ph.D., D.H.L." She supposes this is better than "Diana Gabaldon, Phd.X,") and spent a dozen years as a university professor with an expertise in scientific computation before beginning to write fiction. She has written scientific articles and textbooks, worked as a contributing editor on the MacMillan ENCYCLOPEDIA OF COMPUTERS, founded the scientific-computation journal SCIENCE SOFTWARE QUARTERLY, and has written numerous comic-book scripts for Walt Disney. None of this has anything whatever to do with her novels, but there it is.
She and her husband, Douglas Watkins, have three adult children and live mostly in Scottsdale, Arizona.
You can visit Diana online at
http://www.dianagabaldon.com/
My thanks to Pump Up Your Book Promotion for including me on this book blog tour. I received a copy of "Outlander" for review and was not compensated for my opinion.