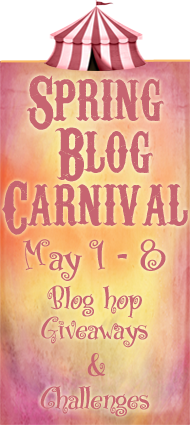 Welcome to the Spring Blog Carnival Blog Hop! This is a fun event with over 200 blogs signed up to participate!
For this giveaway, and since Mother's Day is next week, I decided to offer two great books that will be perfect for Mom!


Plus I'll add some extra goodies just for Mom!
(While the books won't get there for the big day, any day is always a great day for a surprise in the mail!)
TO ENTER:
To enter is easy - Leave me a comment, let me know which book you'd like to win, include your name and email address and you're in!
For an extra entry, follow me on Twitter, Google Friends Connect or Networking Blogs. (Be sure to let me know you are a new follower - you can earn up to three extra entries!!)
Good luck everyone! And as always, Happy Reading!!
Check out these great blogs who are also participating in this fun hop!