Today, I'm hosting a book blog tour stop for the book, Absolute Obsession by C. Elizabeth.
Who among us hasn't had a crush on a movie star or a rock star? I adored Donny Osmond, David Cassidy, Keifer Sutherland, Orlando Bloom - shoot, I still adore all the guys in Bon Jovi!
In C. Elizabeth's book, Absolute Obsession, a crush on a movie star takes a decidedly different turn for one middle-aged woman.
About The Book: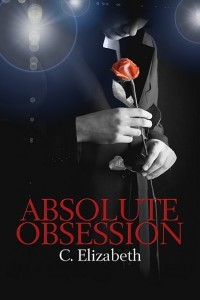 Triggering an intervention of fate, 42 year old Rose Gerbaldi, discovers her heart and soul have been forever united with beautiful, 30 year old, British movie star, Michael Terrance – - a discovery that compels her reality to fiercely reclaim her, ultimately devastating the very lives fate had so lovingly entwined. Forsaken by a woman he's never met, unable to control the debilitating agony, Michael seeks solace on the darker side of Hollywood. Meanwhile in Western Canada, having been doubly devastated, Rose relinquishes to a life of loneliness. Both are certain they'll never again find that for which they long for – - each other. Foolish people – fate is infallible.
I was very impressed with this contemporary romance. Author C.Elizabeth captures the essense of a woman in her middle years and the mindset that many find themselves in as the kids start to leave the nest and a change of life is setting in. Her characters are down-to-earth and easy to relate to, and the storyline is fast-moving and holds the reader's interest to the very last chapter.
I would recommend this novel to anyone looking for a charming story that will touch your heart.
About The Author:
C. Elizabeth lives in St. Albert, Alberta, Canada. She stumbled upon writing, it found her, she finds writing a peaceful escape and is very excited to have her characters come alive in her readers' minds.
Her contemporary romance novel,
Absolute Obsession
, is about 42 year old Rose Gerbaldi who by an intervention of fate unites her heart and soul with 30 year old British movie star, Michael Terrance. Please visit and blog with her at
http://www.celizabeth.ca/
.
Connect with her on Twitter at
http://twitter.com/#%21/search/users/CElizabeth4
and Facebook at
http://www.facebook.com/profile.php?id=1567713637
.
Win 2 Kindle versions of Absolute Obsession!
"It's those lazy days of summer and everyone needs a good read to sit by the pool and C. Elizabeth wants to give you one. Starting July 4, 2011, C. Elizabeth will be gifting two kindle versions of Absolute Obsession to two lucky winners each Friday for 10 weeks.
To enter, simply send C. Elizabeth an email at char@celizabeth.ca telling her why you should win, provide your name and email address. An email will be sent to notify the winners how they can collect their kindle version of Absolute Obsession. C. Elizabeth asks that when you finish reading this wonderful novel, you provide her with some feedback as to what you thought about it. Good luck.