Today, I'm hosting a book blog tour stop for the fascinating book, "Under A Fairy Moon," by T.M. Wallace.
About Under a Fairy Moon:
If you have been longing for an adventure and your family moves next-door to a beautiful garden full of lush plants and ancient stone, wouldn't you sneak over to have a look at it – even if it was owned by the neighborhood witch?
Fourteen-year old Addy Marten doesn't need to think twice: It is only a matter of time before she sets out to explore the garden's winding paths and especially, the ring of mysterious stone statues that she has glimpsed through her bedroom window. Instead of the enticing hideaway she has imagined, however, she finds herself trapped in another world where she is challenged a game of Fairy Chess – played by real fairy creatures. She must use all her courage and wits to win the game and free herself from these malevolent creatures and their twisted fairy tale world.
"Under A Fairy Moon" is undoubtedly one of the most well-crafted and well-written fantasy novels I've had the pleasure of reading. T.M. Wallace sprinkles magic, mystery, and quite a lot of action in this young-adult novel that will also appeal to adults who still like a good fairy tale! I highly recommend this book for readers 13 and up.
About The Author: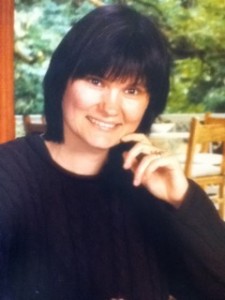 T. M. Wallace lives in Ontario, Canada with her husband and four children. At eight years old, she won a short story contest and was published in a local newspaper. She wrote her first book at ten years old called "The Adventures of Pinkstar," about a stuffed rabbit who magically comes to life.
Wallace received her Master's degree in English Literature from Carleton University and a degree in Education from the University of Ottawa. In 2010 her latest book,
Under A Fairy Moon
, was a quarter-finalist in the Amazon Breakthrough Novel awards.
Under A Fairy Moon
will be published by Brownridge Publishing in June, 2011.
You can visit her website at
http://www.tmwallace.com/
.
My thanks to the author for providing a review copy of her book, and to Pump Up Your Book Promotion for including me on this blog tour. I was not compensated for my opinion.