Today, I'm pleased to be hosting a book blog tour stop for Christa Allan, the author of "The Edge of Grace.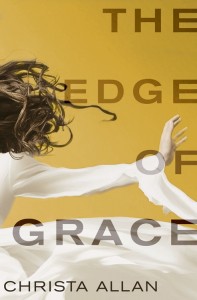 About The Book:
When Caryn Becker answers the telephone on most Saturday morning, it's generally not a prelude to disaster. Except this time, her brother David's call shifts her universe. Her emotional reserves are already depleted being a single parent to six-year-old Ben after the unexpected death of her husband Harrison.
But when David is the target of a brutal hate crime, Caryn has to decide what she's willing to risk, including revealing her own secrets, to help her brother. A family ultimately explores the struggle of acceptance, the grace of forgiveness, and moving from prejudice to love others as they are, not as we'd like them to be.
Christa Allan gives a thoughtful and heartfelt view of how one woman handles what is, to her, a devastating piece of news, and how her Christian faith is renewed and restored as she works through her feelings and opinions about her beloved brother announcing to the world that he is gay.
"The Edge of Grace" is a beautifully written, emotional-filled novel that addressed the subject with frankness and objectivity, but also includes many moments of sunshine and laughter. Allan does a wonderful job of handling this very personal topic, and readers will come away from reading this novel with a renewed sense of hope for mankind and a renewed sense of faith.
About The Author:
A true Southern woman who knows that any cook worth her gumbo always starts with a roux and who never wears white after Labor Day,
The Edge of Grace
is Christa's second novel. Her debut women's fiction,
Walking on Broken Glass,
released in February from Abingdon Press. She is under contract for three more novels that will release in 2012 and 2013. She has been teaching high school English for over twenty years, earning her National Board Certification in 2007. The mother of five adult children and the totally smitten Grammy of two granddaughters, Christa and her veterinarian husband, Ken, live in Abita Springs, Louisiana.
Visit her website at
http://www.christaallan.com/
.
You can connect with Christa at Facebook at
http://www.facebook.com/ChristaAllan.Author
.
Thank you to Dorothy Thompson at Pump Up Your Book Promotion for including me on this tour, and to Christa Allan for the review copy of her book. I was not compensated for my opinion.