I'm pleased today to be hosting a book blog tour stop for author Sharon Bially, and her new novel, "Veronica's Nap.
About The Book:
Veronica Berg has everything she needs to achieve her dream of becoming a painter including a charming home studio in Provence, a hard-working husband and a nanny who watches her two-year-old twins. Yet instead of painting she spends her days secretly indulging in lengthy naps. When her Moroccan-born, Sephardic husband grows impatient and challenges her to sell one painting, Veronica must find a way to break out of the seductive rut that's overtaken her life.
Against the backdrop of the impending Iraq war, her journey reveals depression's sunny mask and the dark side of privilege and security. With a cast of Moroccan, Sephardic characters,
Veronica's Nap
also gives a rare look at contemporary Jewish life in France.
I found this to be a fascinating and thought-provoking book on so many levels. The descriptions of the area surrounding Aix-en-Provence were stunning and I found the storyline of a young mother trying to adjust to the schedule of tending her young twins and trying to carve out some time for herself very poignant.
I, however, was a bit frustrated with the character of Veronica. I will say I had incredible envy of the fabulous art studio that she just let go to waste, and found myself wanting to shake some life into the girl - if I had had the opportunity to work on art all day long while someone else paid the bills and had someone to take care of my kids when they were young - sigh! Plus have the inspiration of the French countryside right outside my door and window! But that is the work of a good writer to inspire emotions, and Sharon Bially has done just that with her novel. Tres Bonne!
About The Author: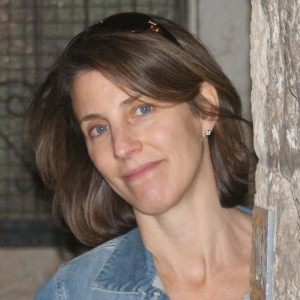 Sharon Bially
lived for twelve years in Paris and Aix-en-Provence before settling with her family in Massachusetts. A graduate of Columbia University's School of International and Public Affairs, she's a public relations professional and leads seminars for the Boston-based, nonprofit literary arts center, Grub Street Writers. She's also an adult student of ballet and modern dance.
Her latest book is the contemporary women's fiction novel,
Veronica's Nap
.
You can visit Sharon's website and blog at
http://www.veronicas-nap.com/
.
Visit her at Twitter at
www.twitter.com/@sharonbially
and Facebook at
http://www.facebook.com/sharon.bially
AND
http://www.facebook.com/pages/Veronicas-Nap/240292619323500
.
My thanks to Pump Up Your Book Promotion for including me on this blog tour. I received a review copy of this book from the author. I was not compensated for my opinion.