I'm so thrilled to be a stop on Eloisa James' book blog tour for her latest book, "The Ugly Duchess."
I'm doing this post a little different, because I wanted my readers to know what I thought of this amazing book right off the bat!
This is a fascinating story about a woman who may not be the prettiest girl in town, the man who sees her for the beautiful person that she really is and the love between the two that survives even the harshest of circumstances.
I adored the main characters - Theodora Saxby, a fiesty, intelligent, handsome woman who takes what life has handed her and turns it into something fabulous and satisfying. She become confident and elegant over the course of the story, and I really enjoyed reading about the transformation she goes through.
And James Ryburn is no slouch as a dashing leading man for this tale - a member of society who turns pirate, and returns to claim his dearest treasure - his wife! Who doesn't love a lusty pirate, especially one who knows how to love a woman properly? Swoon!
This book also contains a bonus - a charming and fun short story, "Ever After," that provides just the right type of cherry-on-top that this book needs!
I think this is one of Eloisa's best books to date! I so appreciate that she has presented a character that isn't "princess pretty," but a rather average woman that most of the world can relate to. I also love her latest efforts at turning fairy tales into charming, lusty romances and I can't wait to see what she has planned next!
About The Book:
About The Ugly Duchess
• Mass Market Paperback: 384 pages
• Publisher: Avon (August 28, 2012)
Since the death of her father, Theo and her mother have lived at the ducal estates of Ashbrook, wards of her father's best friend. She grew up alongside James Ryburn, heir to the Duchy. The two were the closest of friends and confidants; when a terrible childhood sickness robbed James of his sight for one entire summer, it was Theo, or "Daisy" (as only he alone calls her) who sat by his side, reading and laughing and bringing sunshine into his life.
Little did Theo realize that the Dam'Fool duke, James' father, had gambled away his fortune…and embezzled a goodly part of hers. And it's beholden upon James to marry Daisy to spare his family — and hers — from the shame of discovery. But it really is fairy-tale perfect for James, who realizes that Daisy is his — has always been his — should always be his. And will be his, if only he can hide the true reason his father propelled him into such an early marriage.
But this is England, and fairy tales have a way of going fae… The truth will always out. After a shocking disclosure from her father-in-law, Theo has a pretty good idea of what she needs to do – -and it includes a scandal-plagued separation from the man she has always loved.
Years pass. The tide continues to roll…but distance brings clarity to James, who has forged a swashbuckling lifestyle, far from home — and far from the wife and life he was forced to leave behind. Daisy is, always has been, and always will be, his greatest treasure. But how can he commandeer her heart?
These beautiful, fairy-tale inspired romances that Eloisa James writes are inspired by her own father, poet Robert Bly, and his writing on Iron John and the archetypes of masculinity. The Ugly Duchess has received a starred review in both Publisher's Weekly and Booklist
, capturing all the James magic: a heroine whose inner beauty and strength deliniates the work; gorgeous period costuming; witty dialog; and a plot that explores marital concerns, discord and passionate reconciliation.
About Eloisa James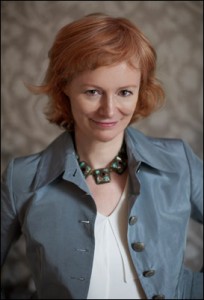 New York Times bestselling author Eloisa James writes historical romances for HarperCollins Publishers. Her novels have been published to great acclaim. A reviewer from USA Today wrote of Eloisa's very first book that she 'found herself devouring the book like a dieter with a Hershey bar'; later People Magazine raved that 'romance writing does not get much better than this.' Her novels have repeatedly received starred reviews from Publisher's Weekly and Library Journal and regularly appear on the best-seller lists.
After graduating from Harvard University, Eloisa got an M.Phil. from Oxford University, a Ph.D. from Yale and eventually became a Shakespeare professor, publishing an academic book with Oxford University Press. Currently she is an associate professor and head of the Creative Writing program at Fordham University in new York City. Her most recent book, Paris In Love, received critical acclaim. Her 'double life' is a source of fascination to the media and her readers. In her professional guise, she's written a New York Times op-ed defending romance, as well as articles published everywhere from women's magazines such as More to writers' journals such as the Romance Writers' Report.
Website
|
Facebook
|
Twitter
|
Pinterest
Eloisa's Tour Stops
Tuesday, August 28th:
Life In Review
Wednesday, August 29th:
Stacy's Books
Thursday, August 30th:
In the Hammock Book Reviews
Monday, September 3rd:
Sharon's Garden of Book Reviews
Tuesday, September 4th:
Alpha Heroes
Wednesday, September 5th:
Let Them Read Books
Monday, September 10th:
Debbie's World of Books
Monday, September 10th:
Love to Read for Fun
Tuesday, September 11th:
Truth, Beauty, Freedom, and Books
Wednesday, September 12th:
Mary's Cup of Tea
Thursday, September 13th:
Book Addict Katie
Monday, September 17th:
A Chick Who Reads
Tuesday, September 18th:
The Adventures of an Intrepid Reader
Wednesday, September 19th:
… the bookworm…
TBD:
Broken Teepee
In conjunction with my 4th Blogaversary celebration, I am giving away a special Eloisa James gift pack!
One lucky winner will receive a copy of "The Ugly Duchess" plus a delightfully soft plush swan, as seen below!
TO ENTER:
Just leave me a comment here, with your email address!
Just for fun, and an extra entry - tell me who your perfect "Prince Charming" would be!
I'll draw for a winner on September 9th!
Good Luck!!
My Thanks to TLC Book Tours for including me on this tour. I received a review copy of this book from the publisher, Avon Books. I was not compensated for my opinion.