Today, I'm hosting a book blog tour stop for Michael Loyd Gray's new novel, "Not Famous Anymore."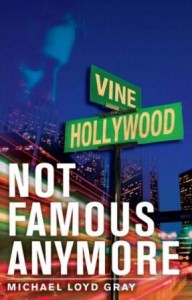 About The Book:
• Paperback: 260 pages
• Publisher: Three Towers Press (an imprint of HenschelHAUS Publishing, Inc.) (December 15, 2011)
Elliott Adrian, a famous actor of questionable skill, drinks too much and works himself to the bottom in Hollywood and emerges from rehab wanting to put the American Dream into reverse: he embarks on a journey to not be famous anymore and works his way back to his hometown of tiny Argus, Illinois. After a short exile in Loreto, Mexico, Elliott s road trip takes him from Arizona to Arkansas and finally Argus. Along the way, Fox News offers a reward for anyone who can find Elliott and once in Argus he discovers he can't quite escape fame and must learn to straddle both worlds– Hollywood as well as Argus. A story about the value of fame and also discovering true self.
I'll be honest, I wasn't too sure if I would like this book going into it. The first few chapters are a little raw and graphic for my taste, but I stuck it out and the more I read, the more I grew fascinated with the characters and the plot.
Michael Gray weaves a story together around Elliott Adrian, a Charlie Sheen-like actor, who has burned out on the whole Hollywood scene and sets out to find a place that he fits in. His journey from Mexico to Tucson to Arkansas to his Illinois hometown finds him interacting with wise folks who help him along the way to rediscover his true self and what he wants out of life.
I'm glad I stuck with the book, and actually would love to see a sequel to find out what happens to Elliott's family and friends after the end of the story.
Like I said, the book is meant for adults - there is a lot of raw language sprinkled throughout the story. But that aside, this is a mesmerizing and gripping tale that won't soon be forgotten.
About The Author:
Michael Loyd Gray was born in Jonesboro, Arkansas,but grew up in Champaign, Illinois. He earned a MFA in English from Western Michigan University and taught at colleges and universities in upstate New York, Michigan, Illinois, Wisconsin, and Texas. He graduated from the University of Illinois with a Journalism degree and was a newspaper staff writer in Arizona and Illinois for ten years, conducting the last interview with novelist Erskine Caldwell.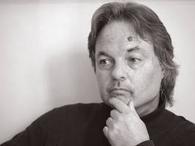 He is the winner of the 2005 Alligator Juniper Fiction Prize and the 2005 The Writers Place Award for Fiction. Gray's novel Well Deserved won the 2008 Sol Books Prose Series Prize.
His novel Not Famous Anymore was awarded a grant by the Elizabeth George Foundation and was published by HenschelHaus (2012). His novel December's Children was a finalist for the 2006 Sol Books Prose Series Prize and was published by Tempest Books( 2012) as the young adult novel King Biscuit. He has written a sequel to Well Deserved called The Last Stop, and another novel called Blue Sparta. Recently he finished a novel titled Fast Eddie.
A lifelong Chicago Bears and Rolling Stones fan, he lives in Kalamazoo, Michigan, and teaches as full-time online English faculty for South University, where he is one of the founding editors of the student literary journal Asynchronous and sponsor of an online readings series featuring fiction and poetry.
Micheal's Tour Stops
Tuesday, August 27th:
Sharon's Garden of Book Reviews
- spotlight
Wednesday, August 28th:
WV Sticher
– spotlight
Thursday, August 29th:
Never Too Fond of Books
- spotlight
Friday, August 30th:
Cerebral Girl in a Redneck World
- spotlight
Saturday, August 31st:
The Book Bag
– spotlight
Sunday, September 1st:
Seaside Book Nook
– spotlight
Monday, October 8th:
Cerebral Girl in a Redneck World
Tuesday, October 9th:
Man of La Book
Thursday, October 18th:
she treads softly
Monday, October 22nd:
Never Too Fond of Books
Tuesday, October 30th:
Sharon's Garden of Book Reviews
My thanks to TLC Book Tours for including me on this tour and for providing the review copy of the book. I was not compensated for my opinion.