Every year I look forward to discovering what new Christmas-themed tale author Richard Paul Evans will gift his readers with, and this year's offering is just outstanding!
The author of the bestselling phenomenon The Christmas Box presents a new holiday novel about family, fate and forgiveness.
Joseph Jacobson is the twelfth of thirteen siblings, all of whom are employed by their father's successful Colorado advertising company. But underneath the success runs a poisonous undercurrent of jealousy; Joseph is his father's favorite and the focus of his brothers' envy and hatred. When the father seems ready to anoint Joseph as his heir, the brothers make their move, forcing Joseph from the company and his Denver home, severing his ties to his parents and ending his relationship with his soon-to-be fianceé. Alone and lonely, Joseph must start a new life.
Joseph joins a Chicago advertising agency where his creativity helps him advance high up in the company. He also finds hope for a lasting love with April, a kind woman with a secret. However, all secrets hold consequences, and when Joseph learns the truth about April's past, his world is again turned upside down. Finally, Joseph must confront his own difficult past in order to make his dreams for the future come true.
A Winter Dream is an ingenious modern retelling of the Old Testament story of Joseph and the coat of many colors by the master of the holiday novel.
***
The #1 bestselling master of the holiday novel reimagines the classic story of Joseph and the coat of many colors, presenting an inspiring modern story of family and forgiveness.
The story I'm about to share with you begins with a dream. . . . Whether the dream was prophetic or the cause of all that happened, I'll never know. But for years, I kicked myself for telling the dream to my father, who, for reasons I'll never understand, chose to share it with my eleven brothers. —From the Prologue of A Winter Dream
I was absolutely charmed by "A Winter Dream." I loved the way that Richard Paul Evans took the Biblical story of Joseph and his coat of many colors and adapted the story for today's readers. Evan's cast of characters are warm and personable, and the fast-moving story draws the reader in from the very first and doesn't let go until the end. It was an enthralling tale.
This is a story of faith, hope, and love, and I personally think it is one of Evan's best books to date!
If you are look for a holiday book that entertains and inspires, "A Winter Dream" is the perfect book for both gift-giving and for personal reading! I highly recommend it!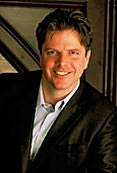 Richard Paul Evans is the #1 bestselling author of
The
Christmas Box
. Each of his twenty novels has been a New York Times bestseller. There are more than 15 million copies of his books in print worldwide, translated into more than twenty-four languages.
He is the recipient of numerous awards, including the American Mothers Book Award, the Romantic Times Best Women's Novel of the Year Award, the German Audience Gold Award for Romance, two Religion Communicators Council Wilbur Awards, the Washington Times Humanitarian of the Century Award, and the Volunteers of America National Empathy Award.
He lives with his wife, Keri, and their five children in Salt Lake City, Utah.
Visit
www.RichardPaulEvans.com
.
Check out this video of Richard Paul Evans talking about "A Winter Dream."
My thanks to the publisher , Simon & Schuster, for providing the review copy of this book. I was not compensated for my opinion.