Today is J.R.R. Tolkien's birthday! The author of the beloved "Lord of the Rings" novels and "The Hobbit" would have been 121 years old today!
So in celebration, I am pleased to tell you about an amazing new book that looks at the wonderful, mystical world of Middle-Earth!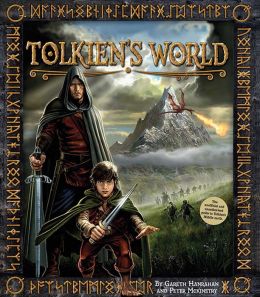 About The Book:
Tolkien's World takes readers on an incredible journey through the realms of Middle-earth and back to a time when elves, dwarves, wizards, and a small, courageous people known as hobbits battled the forces of evil. This lavishly illustrated guide brings you the people and places from The Hobbit and The Lord of the Rings. Explore Middle-Earth, from the rolling hills of the Shire to the desolate ash plains of Mordor.
Discover the secrets of a world where the elves roamed through enchanted forests and dragons slept in dark caverns under the mountains. With stunning artwork that re-imagines the places and people of Middle-Earth, Tolkien's World is ideal for hobbit fans, big and small.
Open the pages of Tolkien's World and meet Bilbo Baggins, the hero of The Hobbit. Then find out about Gandalf the wizard and his incredible magic powers, uncover the story of the unfortunate Gollum or learn about magical weapons, such as Gandalf's sword Glamdring.
This meticulously researched guide lets you discover the amazing peoples and creatures that inhabit Middle-earth, from friendly elves and stout-hearted dwarves to the deadly dragon Smaug and the evil Sauron. Packed with adventure and lore, Tolkien's World is a must for all Hobbit
My Thoughts:
This is an absolutely beautiful book. The paintings and drawings here are just amazing and give fans of the LOTR series and "The Hobbit" a fresh and fun look at the characters and places that are so prominent in the books!
This large coffee-table sized edition would be a perfect gift for any Tolkien enthusiast!
About The Authors:
Gareth Hanrahan is a writer, editor, and game designer based in Ireland, with a wealth of experience in sci-fi and fantasy properties, including Doctor Who and Tolkien's Middle-Earth.
Peter Mckinstry is an artist whose talents have been employed on a dazzling variety of book and film projects, including Doctor Who, Torchwood, Sherlock Holmes, and Harry Potter.
My Thanks to Insight Editions for the review copy of this book. I was not compensated for my opinion.