I'm so pleased today to be a tour stop for the latest Chesapeake Diaries book, "The Long Way Home," by Mariah Stewart!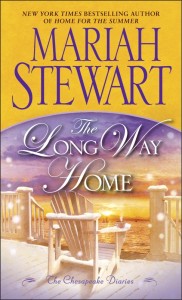 Mass Market Paperback: 432 pages
Publisher: Ballantine Books (Jan 29, 2013)
As the only child of a wealthy investment manager, Ellie Chapman has never known anything besides a life of perfect privilege. But her years of good fortune come to an abrupt end when her father is exposed for swindling billions of dollars from innocent investors in a massive Ponzi scheme. And just like that, Ellie loses everything: money, job, home—even her fiancé, who's jailed as her father's partner in crime. With no job prospects on the horizon, no cash, and her family name in tatters, Ellie has only one place to go.
Sleepy St. Dennis, Maryland, is hardly where Ellie intends to stay, however. Keeping her identity a secret, she plans to sell the house her late mother left her in the small town and use the proceeds to move on with her life. Unfortunately, her ticket to a new beginning is in dire need of a laundry list of pricey improvements, many of which she'll have to do herself. And until the house on Bay View Road is fit to be sold, the sole place Ellie will be traveling is the hardware store. But as the many charms of St. Dennis–not to mention Cameron O'Connor, the handsome local contractor who has secrets of his own–begin to work their magic, what begins as a lesson in do-it-yourself renovations might just end up as Ellie's very own rejuvenation.
"The Long Way Home" is the sixth book in Mariah Stewart's "The Chesapeake Diaries," and continues the story of the quaint town of St. Dennis, Maryland and it's residents.
This was my first time reading Mariah's books in this series, but I easily caught up with the back story of the previous novels and quickly fell in love with the personable characters and the intriguing storylines that have been and are featured. This is a fast-moving story that keeps your attention from the very first paragrah to the very last sentence.
It's light, it's fun, it's romantic! The perfect book to enjoy during the long winter days! I highly recomend this novel for those who enjoy contemporary romance!
Mariah Stewart is the award-winning
New York Times
bestselling author of more than thirty novels of contemporary romance and romantic suspense. A native of Hightstown, New Jersey, she lives with her husband and their dogs amid the rolling hills and Amish farms of southern Chester County, Pennsylvania, where she gardens, reads, and enjoys country life.
.
http://www.mariahstewart.com/
.
See what other bloggers are saying about "The Long Way Home":
Mariah Stewart's TLC Book Tours TOUR STOPS:
Monday, November 26th:
Literally Jen
–
Home for the Summer
review
Sunday, December 30th:
Reviews from the Heart
–
Home for the Summer
review
Monday, January 28th:
Reviews from the Heart
Tuesday, January 29th:
Novel Reaction
Thursday, January 31st:
I Am A Reader, Not A Writer
- Q&A
Monday, February 4th:
Books in the Burbs
Tuesday, February 5th:
Literally Jen
Wednesday, February 6th:
Romancing the Book
Home for the Summer
review
Wednesday, February 6th:
Romancing the Book
- guest post
Thursday, February 7th:
Joyfully Retired
Thursday, February 7th:
Reviews by Molly
Friday, February 8th:
Romancing the Book
Monday, February 11th:
Seaside Book Nook
review/author Q&A
Tuesday, February 12th:
I'm Booking It
Wednesday, February 13th:
Lesa's Book Critiques
Thursday, February 14th:
Sharon's Garden of Book Reviews
Friday, February 15th:
Kelly's Lucky You
Monday, February 18th:
Literally Jen
– author guest post
Monday, February 18th:
Adventures of an Intrepid Reader
Tuesday, February 19th:
Good Girl Gone Redneck
Wednesday, February 20th:
Life in the Thumb
Thursday, February 21st:
Booked on a Feeling
Monday, February 25th:
From the TBR Pile
Tuesday, February 26th:
From L.A. to LA
Wednesday, February 27th:
Mom in Love with Fiction
Thursday, February 28th:
Sara's Organized Chaos
Friday, March 1st:
The Book Pushers
Date TBD:
A Cozy Reader's Corner
My thanks to TLC Book Tours for including me on this blog tour and for providing the review copy of the book! I was not compensated for my opinion.