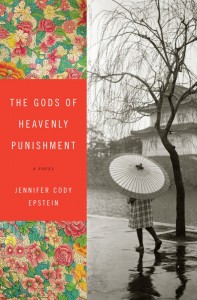 About The Gods of Heavenly Punishment:
Hardcover: 384 pages
Publisher: W.W. Norton & Company (March 11, 2013)
A lush, exquisitely-rendered meditation on war,
The God of Heavenly Punishment
tells the story of several families, American and Japanese, their loves and infidelities, their dreams and losses, and how they are all connected by one of the most devastating acts of war in human history.
In 1935, Yoshi Kobayashi is the six-year-old daughter of a sophisticated, iconoclastic mother and an unread, nationalistic father. Years later, as a teen in Manchuria, she witnesses, first-hand, the harsh realities Japan's expansionist dreams—even as she discovers the first blush of love. During the worst days of the war in Tokyo, Yoshi balances school work with ration lines—even while caring for her mother whose rebellious spirit has been brutally broken by the men who wage war.
Then, one March night, Yoshi's world is finally consumed by flame when hundreds of American B-29's scorch the night sky, showering napalm down upon her city. Left alone among the ruins, Yoshi's fate will now depend on her will to live and the unlikely intersections with three men whom she'd have once considered "enemies": a downed American bomber pilot, a Hungarian-born architect, and an Occupying Forces intelligence officer with his own damning secret.
The Gods of Heavenly Punishment
is about vastly different nations who are tied inextricably to one another, first in enmity and then alliance. It's a story of physical lust and military power; of wartime atrocity and small acts of human kindness. It is a sweeping tale about the redemptive power of forgiveness even in the face of devastating acts of violence.
"Epstein's second novel (after The Painter from Shanghai) is bursting with characters and locales. Yet painful, authentic (Epstein has lived and worked in Asia), and exquisite portraits emerge of the personal impact of national conflicts—and how sometimes those conflicts can be bridged by human connections."
(
Publishers Weekly)
.
MY THOUGHTS:
This novel is one of the most fascinating books that I've read this year! Set before, during and after World War II, author Jennifer Cody Epstein takes her readers to Tokyo, Japan through the stories of four different people.
These stories are so personal for each character, but are interconnecting as well with each other. Epstein captures the essence of the time period and gives readers a whole new look at the horrors of war through the various eyes of her characters.
I highly recommend this book for those readers who are interested in the World War II era and for those who enjoy historical fiction.
About Jennifer Cody Epstein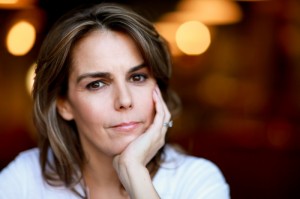 Jennifer Cody Epstein is the author of
The Gods of Heavenly Punishment
and the international bestseller
The Painter from Shanghai
. She has written for
The Wall Street Journal, The Asian Wall Street Journal, Self, Mademoiselle
and
NBC,
and has worked in Hong Kong, Japan and Bangkok, Thailand.
Jennifer lives in Brooklyn, NY with her husband, two daughters and especially needy Springer Spaniel.
To connect with Jennifer, "like" her on
Facebook
.
Jennifer Cody Epstein's TLC Book Tours TOUR STOPS:
Monday, April 29th:
BookNAround
Thursday, May 2nd:
Amused by Books
Monday, May 6th:
Sharon's Garden of Book Reviews
Tuesday, May 7th:
Overflowing Bookshelves
Wednesday, May 8th:
The Book Barista
Thursday, May 9th:
West Metro Mommy
Monday, May 13th:
Diary of an Eccentric
Wednesday, May 15th: P
eeking Between the Pages
Thursday, May 16th:
Lit and Life
Monday, May 20th:
Book Dilettante
Tuesday, May 21st:
The Relentless Reader
Wednesday, May 22nd:
Historical Tapestry
–
The Adventures of an Intrepid Reader
Thursday, May 23rd:
Books Speak Volumes
Friday, May 24th:
Patricia's Wisdom
Tuesday, May 29th:
Fiction Addict
Date TBD:
Savvy Verse and Wit
My thanks to TLC Book Tours for including me on this tour and for providing the review copy of the book. I was not compensated for my opinion,