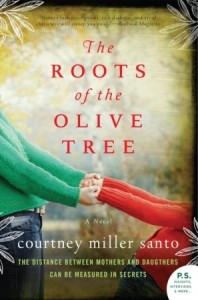 About The Roots of the Olive Tree
• Paperback:
336 pages
• Publisher:
William Morrow Paperbacks; Reprint edition (April 23, 2013)
Courtney Miller Santo's compelling and evocative debut novel captures the joys and sorrows of family— the love, secrets, disappointments, jealousies, and forgiveness that tie generations to one another
Meet the Keller family, five generations of firstborn women living together in the same house on a secluded olive grove in the Sacramento Valley of Northern California. Anna, the family matriarch, is 112 and determined to become the oldest person in the world. Strong in mind and firm in body, she rules Hill House, the family home she shares with her daughter Bets, granddaughter Callie, great-granddaughter Deb, and great-great-granddaughter Erin.
While the Keller women are bound by blood, living together has not always been easy. And it is about to become more complicated now that Erin, the youngest, is back, alone and pregnant, after two years abroad with an opera company. Her return and the arrival of a geneticist who has come to study the family's unusual longevity ignites explosive emotions that these women have kept buried and uncovers revelations that will shake them all to their roots.
My Thoughts:
In Courtney Miller Santo's debut novel, "The Roots Of The Olive Tree," the lessons taught in and around the olive trees are some of the most timely and heart-wrenching ones that women can experience, and through her excellent storytelling Santo captivates her readers with a charming and well-penned tale.
There are five generations of Keller women with the sixth on the way. Each woman is remarkable. Anna is the oldest at a youthful 112, Elizabeth is 90, Callie is in her sixties, Deb, in her forties - is in prison for murder, and the youngest, Erin, in her late 20's, shows up pregnant and at odds at the family home of Hill House.

It's Anna who begins the story and holds it all together, much as she does her family of women. The other women love and take care of Anna, not that she needs any care, and they take care of each other. They are proud of their longevity and, of course, their olive orchards.

Anna is being interviewed by Dr. Hashmi who is doing research on the Keller family to see what the secret of their longevity was. Each woman had a wonderful story with Anna of course being the reason they all were there and the reason they are the person they have become

Readers will find themselves mesmerized by each character and her place in the circle of life. Their individual stories are each amazing in their own complexities. Santo digs deep into each woman's life with wonderful descriptions and flashbacks along with tears and hugs. Written with obvious passion and love for detail, "The Roots of the Olive Tree" is a spectacular family saga that is too rarely found in today's fiction.

About Courtney Miller Santo
Courtney Miller Santo grasped the importance of stories from listening to her great-grandmother, who lives in Northern California. She learned to write stories in the journalism program at Washington and Lee University and then discovered the limits of true stories working as a reporter in Virginia. She teaches creative writing at the University of Memphis, where she earned her MFA.
Her work has appeared or is forthcoming in
The Los Angeles Review
,
Irreantum
,
Sunstone
, and
Segullah
. She lives in Tennessee with her husband, two children, and dog. Her most prized possession is a photo of five generations of the women in her own family.
Visit Courtney at her
website
, connect with her on
Facebook
, follow her on
Twitter
, and see what she's pinning on
Pinterest
.
Courtney's Tour Stops
Wednesday, May 1st:
Sharon's Garden of Book Reviews
Thursday, May 2nd:
The Book Bag
Monday, May 6th:
Reflections of a Bookaholic
Wednesday, May 8th:
Good Girl Gone Redneck
Thursday, May 9th:
A Dream Within a Dream
Tuesday, May 14th:
Traveling With T
Monday, May 27th:
Diary of a Stay at Home Mom
Wednesday, May 29th:
Bloggin' 'Bout Books
Thursday, May 30th:
Kritters Ramblings
Thursday, June 6th:
Amused By Books
My thanks to TLC Book Tours for including me on this tour and for providing the review copy of the book. I was not compensated for my opinion.