About The Alley of Love and Yellow Jasmines
• Hardcover:
288 pages
• Publisher:
Harper (June 4, 2013)
Oscar nominee and Emmy Award–winning actress Shohreh Aghdashloo shares her remarkable personal journey—from a childhood in the Shah's Iran to the red carpets of Hollywood—in this dazzling memoir of family, faith, revolution, and hope.
Enchanted by the movies she watched while growing up in affluent Tehran in the 1950s and '60s, Shohreh Aghdashloo dreamed of becoming an actress despite her parents' more practical plans. When she fell in love and married her husband, Aydin, a painter twelve years her senior, she made him promise he'd allow her to follow her passion.
The first years of her marriage were magical. As Shohreh began to build a promising career, Aydin worked at the royal offices as an art director while exhibiting his paintings in Tehran. But in 1979 revolution swept Iran, toppling the Shah and installing an Islamic republic under the Ayatollah Khomeini. Alarmed by the stifling new restrictions on women and art, Shohreh made the bold and dangerous decision to escape the new regime and her home country. Leaving her family and the man she loved behind, she fled in a covert journey to Europe and eventually to Los Angeles.
In this moving, deeply personal memoir, Shohreh shares her story: it is a tale of privilege and affluence, pain and prejudice, tenacity and success. She writes poignantly about her struggles as an outsider in a foreign culture—as a woman, a Muslim, and an Iranian—adapting to a new land and a new language. She shares behind-the-scenes stories about what it's really like to be a Hollywood actress—including being snubbed by two of Tinseltown's biggest names on Oscar night.
Lyrical and atmospheric,
The Alley of Love and Yellow Jasmines
is a powerful story of ambition, art, politics, terror, and courage—of an extraordinary woman determined to live her dreams.
My Thoughts:
I've been a fan of Shohreh Aghdashloo since her amazing appearances on "24," so I was thrilled to be able to read and review her memoir. I certainly wasn't disappointed - this is a fascinating book!
Shohreh takes her readers into her life and gives them the grand tour, from her childhood growing up in a mostly peaceful Iran to the turmoil of the late 1970s in her home country to her present-day life in the United States. I was intrigued at how her acting career advanced over the years from being a stage actress to becoming a popular movie actress to having to restart when she came to the U.S.
Reading this book, I could hear Shohreh's melodious voice in my head, as if she was reading to me. She is quite the storyteller and it was a pure joy reading this memoir of her life.
I highly recommend it!
About Shohreh Aghdashloo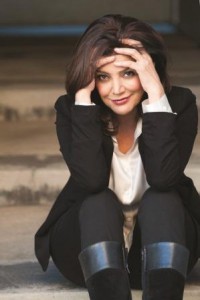 Shohreh Aghdashloo won an Emmy Award for Outstanding Supporting Actress for HBO's
House of Saddam
and was the first Iranian actress ever to be nominated for an Academy Award, for her role in
House of Sand and Fog
. She has starred in the Fox series
24
and has been featured in a number of television shows and films. Born and raised in Tehran, she now lives in Los Angeles.
Shohreh's Tour Stops
Tuesday, June 11th:
Book Dilettante
Wednesday, June 12th:
Book Him Danno!
Thursday, June 13th:
The Infinite Shelf
Monday, June 17th:
missris
Wednesday, June 19th:
Sharon's Garden of Book Reviews
Thursday, June 20th:
Hardcover Feedback
Monday, June 24th:
Between the Covers
Tuesday, June 25th:
Take Me Away
Wednesday, June 26th:
Book Club Classics!
Thursday, June 27th:
Reviewing Shelf
Monday, July 1st:
River City Reading
Tuesday, July 2nd:
Peppermint PhD
Monday, July 8th:
Books in the City
Tuesday, July 9th:
Dab of Darkness
Wednesday, July 10th:
Beastmomma
TBD:
Blog Critics
TBD:
Booktalk & More
TBD:
Lavish Bookshelf
TBD:
Speaking of Books
My thanks to TLC Book Tours for including me on this tour and to Harper Collins for the review copy of the book. I was not compensated for my opinion.