About The Book:
Once upon a time…
A duke fell in love
Gowan Stoughton of Craigievar, Duke of Kinross, values order and self-control above all else. So when he meets a lady as serene as she is beautiful, he promptly asks for her hand in marriage.
With a lady
Edie—whose passionate temperament is the opposite of serene—had such a high fever at her own debut ball that she didn't notice anyone, not even the notoriously elusive Duke of Kinross. When her father accepts his offer… she panics.
And when their marriage night isn't all it could be, she pretends.
In a tower.
But Edie's inability to hide her feelings makes pretending impossible, and when their marriage implodes, she retreats to a tower—locking Gowan out.
Now Gowan faces his greatest challenge. Neither commands nor reason work with his spirited young bride. How can he convince her to give him the keys to the tower…
When she already has the keys to his heart?

My Thoughts:
I love a good happily-ever-after story and no one writes them better than Eloisa James.
Her latest novel, "Once Upon A Tower," is a prime example of James' mastery of taking a beloved old fairy tale (a wink to Rapunzel and a nod to Romeo and Juliet!) and adding in a bit of whimsy, and a lot of romance to create a fun story that will leave readers' satisfied and yearning for more.
I loved the Scottish setting, I loved the characters, and I loved the special appearance of the Smythe-Smith family from fellow author Julia Quinn's novels.
I highly recommend this novel to anyone who enjoys a fun historical romance.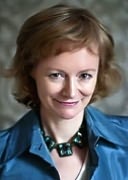 About The Author:
A New York Times bestselling author, Eloisa James is a professor of English literature who lives with her family in New York, but who can sometimes be found in Paris or Italy. (Her husband is an honest-to-goodness Italian knight!) Eloisa's website offers short stories, extra chapters, and even a guide to shopping in Florence.
Check out her website at
www.eloisajames.com
I purchased this book for my personal library. I was not compensated for my opinion.