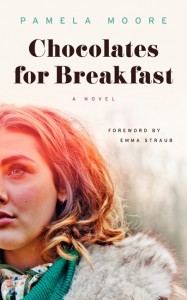 About Chocolates for Breakfast
• Paperback:
304 pages
• Publisher:
Harper Perennial; Original edition (June 25, 2013)
Courtney Farrell is a disaffected, sexually precocious fifteen-year-old. She splits her time between Manhattan, where her father works in publishing, and Los Angeles, where her mother is a still-beautiful Hollywood actress. After a boarding-school crush on a female teacher ends badly, Courtney sets out to learn everything fast. Her first drink is a very dry martini, and her first kiss the beginning of a full-blown love affair with an older man.
A riveting coming-of-age story,
Chocolates for Breakfast
became an international sensation upon its initial publication in 1956, and it still stands out as a shocking and moving account of the way teenagers collide, often disastrously, against love and sex for the first time.
My Thoughts:
This was quite a different novel for me. For one thing, it was originally published in 1956, so the viewpoint of the story is unique to that era. The characters' actions and personalities are so different than that of today - it was interesting to see the differences.
The subject matter was a little tough - a young girl, basically ignored by her self-absorbed parents, has all the symptoms of a severally depressed young person, yet no one can recognize her need for help for all their own selfish problems. It's a sad story, overall.
The author's story is also sad - Pamela Moore claimed fame with this rather scandalous novel (for it's time) at age 18, and went on to write several more novels. But sadly, she took her own life at age 26. Comparisons to Sylvia Plath, Sara Teasdale and other young women authors who were also mentally depressed have been made to Pamela Moore. Such a great amount of talent lost so early.
I'm glad I was able to read this novel - but I wouldn't recommend it for light or reading for pleasure.

About Pamela Moore
Pamela Moore was an American writer educated at Rosemary Hall and Barnard College. Her first book,
Chocolates for Breakfast
, was published when she was eighteen and became an international bestseller. Moore went on to write four more novels, but none of these enjoyed the success of her first.
She died in 1964 at the age of twenty-six, while at work on her final, unpublished novel,
Kathy on the Rocks
.
Chocolate For Breakfast's Tour Stops
Tuesday, June 25th:
Write Meg
Wednesday, June 26th:
I Read a Book Once
Thursday, June 27th:
A Chick Who Reads
Monday, July 1st:
The Feminist Texican [Reads]
Tuesday, July 2nd:
Broken Teepee
Wednesday, July 3rd:
A Bookish Affair
Thursday, July 4th:
From the TBR Pile
Thurday, July 4th:
Sharon's Garden of Book Reviews
Monday, July 8th:
Unabridged Chick
Tuesday, July 9th:
Tiffany's Bookshelf
Thursday, July 11th:
Luxury Reading
Monday, July 15th:
Books in the Burbs
My thanks to TLC Book Tours for including me on this tour, and to the publisher, Harper Collins, for the review copy. I was not compensated for my opinion.