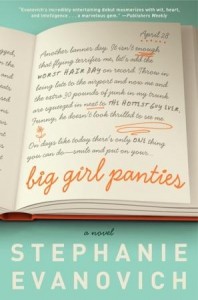 About Big Girl Panties
• Hardcover:
336 pages
• Publisher:
William Morrow (July 9, 2013)
A rollicking, sensuous, feel-good romantic comedy about a grieving young widow who decides to get in shape . . . and winds up getting her groove back—and a whole lot more!
Holly didn't expect to be a widow at thirty-two. She also didn't expect to be so big. After her husband's death, food was the one thing she could always count on. Now, those extra pounds make flying coach feel like medieval torture—especially when she's squished next to Logan Montgomery. A personal trainer to famous pro athletes, her seatmate is so hot that he makes Holly sweat in all the right (and so embarrassingly wrong!) places.
Though Holly doesn't make the grade on Logan's first-impression meter, he finds himself intrigued by her sharp wit and keen insights—a welcome change from the high-maintenance models he dates—so he impulsively offers to get her back in shape. A little skeptical but ready to make at least one positive change in her life, Holly agrees.
To Logan's (and her own) surprise, Holly turns out to be a natural in the gym, slimming down into a bona fide looker with killer curves—and a new kind of hunger. Before either of them can stop it, the easy intimacy of their training sessions leads to even more steamy workouts away from the gym.
Logan's best friends, professional baseball player Chase Walker and his wife, Amanda, see that this is more than a fling, even if Logan and Holly don't. But can a man whose whole life depends on looks commit himself to a woman who doesn't fit his ideal?
Now that Holly's turning other men's heads, does she even need Logan anymore? Are they a couple built to last . . . or destined to fizzle?
My Thoughts:
Chubby girls everywhere can sing the praises of author Stephanie Evanovich for creating a delightful novel featuring a big, beautiful woman and a man who falls head over heels for her!
"Big Girl Panties" is a contemporary look at romance for ladies who are not a size 0! Filled with a cast of realistic and personable characters, and featuring a story that is funny, sexy, heartfelt and heartwarming. It's the perfect read for summer, and I have high hopes that Ms. Evanovich has plans for a sequel - I just got to know how life turns out for Holly and Logan, and Chase and Amanda!
I highly recommend this novel - for all sizes! :)
About Stephanie Evanovich:
Stephanie Evanovich is a full-fledged Jersey girl from Asbury Park who began writing fiction while waiting for her cues during countless community theater projects. She attended New York Conservatory for the Dramatic Arts, performed with several improvisational troupes, and acted in a few small-budget movies, all in preparation for the greatest job she ever had: raising her two sons. Now a full-time writer, she's an avid sports fan who holds a black belt in tae kwon do.
Connect with Stephanie on
Facebook
.
Stephanie's Tour Stops
Thursday, July 11th:
Good Girl Gone Redneck
Friday, July 12th:
As I turn the pages
Monday, July 15th:
A Chick Who Reads
Tuesday, July 16th:
Reading Reality
Wednesday, July 17th:
No More Grumpy Bookseller
Thursday, July 18th:
A Dream Within a Dream
Tuesday, July 23rd:
From the TBR Pile
Wednesday, July 24th:
Hopelessly Devoted Bibliophile
Monday, July 29th:
Drey's Library
Thursday, August 1st:
Walking With Nora
Friday, August 2nd:
Satisfaction for Insatiable Readers
Tuesday, July 9th:
A Bookworm's World
Monday, August 5th:
Sharon's Garden of Book Reviews
Wednesday, August 7th:
Stephany Writes
Thursday, August 8th:
My Book Retreat
Monday, August 12th:
A Bookworm's World
TBD:
Laura's Reviews
TBD:
Proud Book Nerd
GIVEAWAY!!!
I have a copy of Stephanie's book to giveaway to one lucky winner! Good Luck!!
a Rafflecopter giveaway
My Thanks to TLC Book Tours for including me on this tour and to HarperCollins for the review copy of the book.
I was not compensated for my opinion.