About The Book:
On Quinnipeague, hearts open under the summer stars and secrets float in the Sweet Salt Air...
Charlotte and Nicole were once the best of friends, spending summers together in Nicole's coastal island house off of Maine. But many years, and many secrets, have kept the women apart. A successful travel writer, single Charlotte lives on the road, while Nicole, a food blogger, keeps house in Philadelphia with her surgeon-husband, Julian.
When Nicole is commissioned to write a book about island food, she invites her old friend Charlotte back to Quinnipeague, for a final summer, to help. Outgoing and passionate, Charlotte has a gift for talking to people and making friends, and Nicole could use her expertise for interviews with locals. Missing a genuine connection, Charlotte agrees.
But what both women don't know is that they are each holding something back that may change their lives forever. For Nicole, what comes to light could destroy her marriage, but it could also save her husband. For Charlotte, the truth could cost her Nicole's friendship, but could also free her to love again. And her chance may lie with a reclusive local man, with a heart to soothe and troubles of his own.
My Thoughts:
I've enjoyed Barbara Delinsky's books for many years, and was thrilled to find out she had a new summer release. Her stories are always populated with interesting characters and set in interesting locations, and "Sweet Salt Air" is no exception.
This story follows the friendship of two women, Charlotte and Nicole, and how it changed, matured, and was challenged over the years. As they come back together for a summer on Quinnipeague Island, they discover secrets, that each have held near, have a way of coming unraveled in the sweet, salt air.
I found this story to be so poignant, and marveled at how Delinsky interwove the two women's stories together along with the secondary plots to create such a mesmerizing read. I was especially touched with how she handled the storyline of Nicole's husband's struggles with his recent diagnosis of M.S. and how it affected his marriage and both of their relationships with others. And I enjoyed the magical touch she lent to the character of Leo, the reclusive gardener/turned best-selling author.
I highly recommend this novel, both as an ideal end-of-summer read or an any-time of season read. I thoroughly enjoyed it.
About The Author: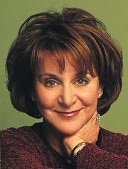 BARBARA DELINSKY is a New York Times bestselling author with more than thirty million copies of her books in print. She has been published in twenty-eight languages worldwide. A lifelong New Englander, Delinsky earned a B.A. in psychology at Tufts University and an M.A. in sociology at Boston College. Delinsky enjoys knitting, photography, and cats. She lives in Needham, Massachusetts.
My thanks to Wunderkind P.R. and St. Martin's Press for the review copy of this book. I was not compensated for my opinion.