Well, now that the last few days are upon us, I thought it would be a nice time to wrap up the holiday books.
I went back and counted the number of books and e-books with a holiday theme that I read this season, and the grand total was - 50!! (I know, I know, I have a Christmas book addiction!)
Here are the final four books that I've enjoyed this week, and thought you might too!
About The Book:
#1 New York Times bestselling author Sherryl Woods takes you back to Chesapeake Shores for another heartwarming holiday season.
As the only child of a single mom, Jenny Collins wanted nothing more than to be part of a large, rambunctious family like the O'Briens. Ironically, though, when her mother married into that family, Jenny found herself feeling more like an outsider than ever.
Now, after years in Nashville as an established songwriter, Jenny's drawn back to Chesapeake Shores to collaborate on a Christmas production…and to make peace with the past. As if that's not challenging enough, Caleb Green, the singer who broke her heart, has followed her to town, determined to win her back.
With the help of a little O'Brien holiday magic, will Jenny and Caleb find a way to make sweet music forever?
My Thoughts: I love Sherryl Woods' books and always enjoy a trip back to her characters at Chesapeake Shores! This was a fun story that brings the whole Sullivan family together!
About The Book:
A single father who yearns to be a family man, Logan O'Donnell is determined to create the perfect Christmas for his son, Charlie. The entire O'Donnell clan arrives to spend the holidays in Avalon, a postcard-pretty town on the shores of Willow Lake, a place for the family to reconnect and rediscover the special gifts of the season.
One of the guests is a newcomer to Willow Lake— Darcy Fitzgerald. Sharp-witted, independent and intent on guarding her heart, she's the last person Logan can see himself falling for. And Darcy is convinced that a relationship is the last thing she needs this Christmas.
Yet between the snowy silence of the winter woods, and toasty moments by a crackling fire, their two lonely hearts collide. The magic of the season brings them each a gift neither ever expected—a love to last a lifetime.
| | |
| --- | --- |
| | My Thoughts: If you enjoy Susan Wiggs' Lakeshore Chronicles, then you'll enjoy this Christmas installment to the series. Wiggs' style of writing is always enjoyable to read, and this story is particularly heartwarming! A nice holiday treat! |
About The Book:
Christmas is a time for remembering… ...
Too bad not all memories are pleasant! Everyone in Whiskey Creek remembers Sophia DeBussi as the town's Mean Girl. Especially Ted Dixon, whose love she once scorned.
But Sophia has paid the price for her youthful transgressions. The man she
did
marry was rich and powerful but abusive. Then he goes missing—and she soon learns that he died running from an FBI probe of his investment firm. Not only has he left Sophia penniless, he's left her to face all the townspeople he cheated….
Sophia is reduced to looking for any kind of work to pay the bills and support her daughter. With no other options, she accepts a job as housekeeper for Ted, now a successful suspense writer. He can't turn his back on her, but he refuses to get emotionally involved.
Will Christmas, the season of love and forgiveness, bring them another chance at happiness?
My Thoughts: This is not a fluffy, cotton-candy whirl of a holiday story - Brenda Novak brings out the big guns with this well-written, gritty tale of reunion, love found, and overcoming odds. I enjoyed this one very much and it's a great addition to the Whiskey Creek series!
And last, but not least - one of the cleverest Christmas books I've read this season ...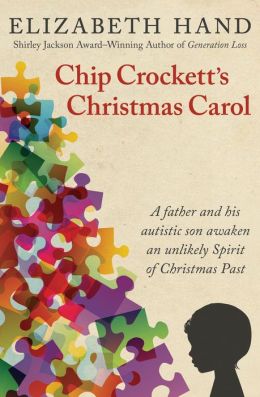 The father of an autistic child dreams of a Christmas miracle in this moving short novel nominated for the World Fantasy Award—proceeds to be donated to Autism Speaks

When Brendan touches his four-year-old son, Peter screams and pulls away. He suffers from a form of autism known as Pervasive Developmental Disorder and has no idea how much his father wants to make him smile. Their relationship is tortured, but Christmas is coming, and a miracle might come with it.
An unlikely harbinger of the holidays arrives in the form of Tony Kemper, Brendan's childhood friend who's never quite gotten over his glory days as a 1970s punk sensation. Broke, unemployed, and homeless, Tony has recently become obsessed with the long-canceled Chip Crockett television show, a beloved memory from when they were kids. Not a minute of footage remains of Chip, but these three boys are about to discover that when an entertainer is truly great, his magic will last forever.
Previously serialized online, this is the first time
Chip Crockett's Christmas Carol
has been published in ebook form. Elizabeth Hand will donate all proceeds from this book to Autism Speaks in honor of special education teacher Anne Marie Murphy, who was killed in the Sandy Hook shooting. The two attended the same high school, where Murphy was a friend of Hand's younger sister.
My Thoughts: I cannot say enough good things about this book - it's amazing! It combines a trip down memory lane with the love and frustration with parenting, and all the good things that embrace the holiday! It's an e-book, and a quick read. READ THIS!!!!
If you're looking for a pick-me-up for your holiday spirit, then check out these reads! And Merry Christmas everyone!