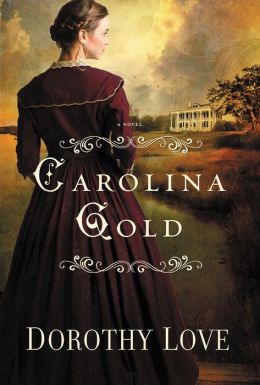 About The Book:
The war is over, but her struggle is just beginning.
Charlotte Fraser returns to her late father's once-flourishing rice plantation on the Waccamaw River, determined to continue growing the special kind of rice known as Carolina Gold. But Fairhaven Plantation is in ruins, the bondsmen are free, and money is scarce.
To make ends meet, Charlotte reluctantly accepts a position as tutor to the young daughters of Nicholas Betancourt, heir to the neighboring Willowood Plantation. Then Nick's quest to prove his ownership of Willowood sends Charlotte on a dangerous journey that reveals an old family mystery—and threatens all that she holds dear.
Inspired by the life of a 19th century woman rice planter,
Carolina Gold
continues Dorothy Love's winning tradition of weaving together mystery, romance, and rich historical detail, bringing to life the story of one young woman's struggle to restore her ruined world.
Purchase a copy here
.
My Thoughts:
The period of time after the Civil War was perhaps one of the most difficult in U.S. History, particularly for the Southerners who were trying to piece back together their lives. In "Carolina Gold," author Dorothy Love captures the era brilliantly as she tells the story of a plucky and determined woman who struggles to reclaim both her life and her land in the South Carolina Lowcountry.
From a historical viewpoint, Love relates the struggles of the South in a realistic and honest manner. The South had it very hard after the war, and through her story Love shows the hardships and tragedies that colored this time period. Her cast of characters are relatable, especially her lead character of Charlotte. I so admired this young woman as she does her best to restore her family home and renew the rice planting that was so important for this area. And I loved that Love based this character on a real-life person.
I've always been interested in the Civil War era and found this book to be a highly enjoyable read. (and I'll admit - I'm partial to South Carolina-based novels, as my husband was born there!) Faith inspired and historically fascinating, I recommend this book for those who enjoy a well-written story that will hold your reading attention to the very final page. This would also be a great novel for book clubs to consider, and there is a reading group guide at the back.
About The Author
:
A former journalist, free-lance writer and college professor, Dorothy Love explores the intersection of history and human relationships to create novels that speak to the hearts of women everywhere.
She is the author of the acclaimed Hickory Ridge novels set in her native state of Tennessee. After earning a masters degree and Ph.D, she authored dozens of magazine articles before breaking into book publishing with a number of award-winning novels for preteens and young adults.
The Hickory Ridge series marked her adult fiction debut. Currently she is working on several stand-alone historical novels set in the South. When she isn't busy writing or researching her next book, Love enjoys hiking, traveling, and hanging out with her husband Ron and their rambunctious golden retriever. The Loves make their home in the Texas hill country.
Learn more at Dorothy's website
.
Fun news:
The release of
Carolina Gold
coincides with
Dorothy's birthday
. Celebrate with her by entering the
Southern Essentials Giveaway
and RSVPing to her
Facebook party
on January 14th!
Between January 3–14, visit Dorothy Love's Facebook Page to enter to win a new giveaway each day and be entered to win the $100 Visa Cash Card grand prize. Winners will be announced at the Facebook Author Chat party on January 14th! (Don't have a Facebook account? Enter here.)
RSVP today for Dorothy's Carolina Gold Author Chat Party on Facebook
.
During the party Dorothy will be hosting a book chat, testing your trivia skills, announcing the winner of the Southern Essentials Giveaway, and giving away books, gift certificates, and more. Oh, and she'll also be giving partygoers an exclusive look at her next book!
So grab your copy of
Carolina Gold
and help Dorothy celebrate her birthday on the evening of January 14th! (If you haven't read the book, don't let that stop you from coming!)
DON'T MISS A MOMENT OF THE FUN; RSVP TODAY. HOPE TO SEE YOU ON THE 14th!
My thanks to Litfuse Publicity Group for including me on this blog tour and for providing the review copy of this book. I was not compensated for my opinion.