About The Book:
Nanette Johnston Packard, a sexy divorcee, liked to meet men at the gym and through personal ads. Soon after she began dating millionaire Bill McLaughlin, he moved her and her kids into his bay-front home in Newport Beach. But one man was never enough for Nanette. . .
Eric Naposki, her NFL linebacker lover, fulfilled Nanette's wilder cravings. Together they schemed to make her fiance's fortune their own. When McLaughlin was gunned down, authorities had suspicions--but no proof.
Pulitzer-nominated writer Caitlin Rother explores this chilling story of a woman who seemed to have it all--until justice finally had its day.
My Thoughts:
It's been a long time since I've read a true crime novel, but in the past I was a big fan of Ann Rule and Patricia Springer's books in this genre. So when I was asked to review Caitlin Rother's latest book, "I'll Take Care Of You," I was intrigued to see how the coverage of sensational crimes had evolved over the years. I was not disappointed!
Rother takes her readers right into the heart of the cold-case investigation of the murder of California millionaire Bill McLaughlin and follows the story of the two prime (and eventual convicted) suspects, McLaughlin's girlfriend Nanette Johnston and her boyfriend Eric Naposki. As she presents the stories of the people involved in this case, Rother weaves together a tale of greed, lies, and alibis gone wrong that brings this heartbreaking case to light - a case that took over seventeen years to come to a conclusion.
Gathering what must have been a monumental amount of documents, trial transcripts and interviewing family members, friends and professionals associated with this case, Rother presents all sides in a fascinating and riveting manner that proves why she is the up and coming queen of "true crime."
I highly recommend this book for those who enjoy true crime and novels involving true life situations. Mystery lovers will also find this novel mesmerizing.
About The Author: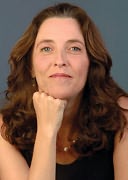 Caitlin Rother, a Pulitzer Prize nominee, worked as an investigative reporter at daily newspapers for nineteen years before deciding to write books full-time. Her work has been published in Cosmopolitan, the Los Angeles Times, The San Diego Union-Tribune, the Chicago Tribune, The Washington Post, The Boston Globe and The Daily Beast.
She has appeared as a crime expert on E! Entertainment, the Oxygen Network, Investigation Discovery, Greta Van Susteren's "On the Record," XM Radio and the American Radio Network. She also teaches narrative non-fiction, journalism, and creative writing at UCSD Extension in San Diego, CA, where she resides.
For more information on Caitlin Rother's upcoming projects and books, check out her website at
www.caitlinrother.com
My thanks to the author and Kensington Books for providing the review copy of this book. I was not compensated for my opinion.