I'm pleased today to host author Genevieve Crownson, who has taken time to answer a few questions about her writing and upcoming projects.
At what age did you know that you wanted to be a writer?
I've written stories as far back as I can remember. But the writing bug hit full force in first grade when the teacher had us write stories in class. It has been a passion of mine ever since. Although I didn't really start writing full length novels until I was in college.
What three important facts do you want readers to know about your books?
The number one thing you should know is that all my books first appear as dreams. They are detailed, character rich stories that just play like a movie in my mind as I sleep. Second; you probably won't find anything similar elsewhere. My books are truly unique. They combine the inherit love people share for one another, and the belief that anything is possible. When we truly believe in ourselves we truly can change the world. These elements are very important to me and you will see them portrayed in very unique ways in my novels. Third, I am an animal lover and you will find that throughout my novels, animals are woven into the fabric of my characters lives. They also share a piece of the magic.
J
Who are some of your favorite authors? Who inspires you?
I am truly inspired by Elizabeth Gilbert. She has a beautiful sense of self, and I love how honest and revealing she is. Her open heart and gift with words make her a writer I truly admire. I also enjoy Sophie Kinsella. Her books make me laugh and really uplift my spirit. Another favorite whom I admire is Katherine Howe, her in depth descriptions are amazing and something I learn from. She creates a sense of time and place that enables you to experience another world in some far distant past.
What do you have coming up in the future?
I am currently working on books two and three of the Argos Dynasty Trilogy. These are the follow up books to The Soul of the Sun. You can take a sneak peak at the cover of book two on my website. http://www.genevievecrownson.com/
What advice would you have for anyone wanting to break into writing today?
I would say never give up and don't let anyone tell you it's not possible to have a career as a writer. With the world of self-publishing at your fingertips you can become a published author. Just know that the road is not easy, and that even after your book is published your work is far from finished. Marketing is essential! You have to let people know your book is out in the world. Once you've built a platform you can always try for traditional publishing if that's your desire. And in the mean time you are not waiting for your dreams to materialize, you are doing something about them. Believe in yourself and your dreams. You are worth it.
My thanks to Genevieve for taking time to stop by! And to Pump Up Your Book Promotions for arranging this interview!
Be sure to check out Genevieve's Book Blog Tour Stops!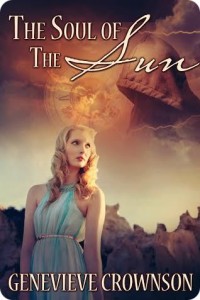 Title
: The Soul of the Sun
Genre:
Paranormal/Young Adult
Author
: Genevieve Crownson
Publisher
: Genevieve Crownson
Pages
: 348
Format
: Paperback; Kindle
"The hands of time turn on the face of the sun. Only you can move them. If the Watcher controls the hands of the clock he can go anywhere, past or future– and destroy our planet."
Since the days of ancient Greece, the Argos dynasty has kept a secret, a mystery passed down through their descendants from generation to generation, in the hopes that the forces of good can stop the evil destruction of planet Earth.
Margaret Ingall is harboring that secret. Time is running out for the descendants of the Argos. They know a great healer and time traveler will be born of their blood. But the only person that knows whom they will call "the soul of the sun" is Margaret's sister, Abigail. Before she can reveal the healer's identity, disaster strikes…
Evil stalks them, watching and waiting to find out which member of her family has the ultimate power. Is it Margaret's own child? Or her beloved granddaughter? Or even herself? Their only clue is a powerful protective amulet that will lead them all in a cat-and-mouse game to discover secrets as ancient as time.
If the Watcher discovers the truth before they do, all will be lost.
Fate, time and love weave together in their struggle to fulfill their destiny. Will Margaret's fears sabotage her family's protection? Can the healer accept her gifts in time? And once the soul of the sun is finally revealed, will it be too late?
Her power is incredible. The sacrifices required of her are immense.
Will it be enough to stop the Watcher?