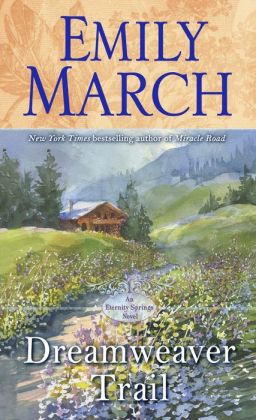 About The Book:
Love and forgiveness spin their magic as a woman discovers that home is where her heart belongs in Emily March's moving new Eternity Springs novel.
After another lonely Valentine's Day, Gabi Romano trades mountain snowfall for sunshine and sand at a luxurious Caribbean getaway. There she finds not one but two thrilling new passions: creating art glass, and Flynn Brogan, the sexy caretaker next door who brings her fantasies to life. But when violence interrupts their romantic interlude, she learns that Flynn is living a lie. Heartsick, she decides to concentrate on her craft. Playing with fire is safer than loving a man like Flynn.
Flynn is determined to make things right with Gabi—until his enemies interfere. Now damaged and driven by a need he cannot define, he seeks out Gabi's Colorado community as a mystery man searching for peace, though not expecting redemption. But he never imagined a place like Eternity Springs, where lives are changed, second chances are given, and the possibility exists for two wounded souls to find their way home . . . to each other.
My Thoughts:
I am a big fan of Emily March's Eternity Springs series, and was so pleased to get my hands on the eighth book in the series, "Dreamweaver Trail." And I was equally pleased that, once again, Emily delivers a charming love story with her signature writing style that includes a bit of grit, a lot of lust, and plenty of humor to keep her readers happy.
While the majority of this story is set in the beautiful town of Eternity Springs, Colorado - Emily takes her readers on a quick trip to a gorgeous Caribbean island for part of the tale. Just the pick-me-up that readers probably need after the long, long winter we've had.
I will always reach for a new Emily March novel whenever they come out! I highly recommend this entire series!
About The Author:
New York Times
and
USA Today
bestselling author
Emily March
lives in Texas with her husband and their beloved boxer, Doc, who tolerates a revolving doggie door of rescue foster dogs sharing his kingdom until they find their forever homes. A graduate of Texas A&M University, Emily March is an avid fan of Aggie sports, and her recipe for jalapeño relish has made her a tailgating legend.
I purchased this book for my personal collection. I was not compensated for my opinion.