I'm so pleased today to host author Kaira Rouda, a fabulous writer who shares what it's like in her life on a daily basis!
A Day in the Life of . . .
By Kaira Rouda
I thought about what the notion of the writing life that I had as a child, when I first dreamed of this career. Back then, in sixth grade or so, I became enchanted by Emily Dickinson. My head was in the clouds, and frequently, buried in one of her poems. The fact of her premature demise didn't daunt my visions of writing, nope not at all.
In my childhood dreams of being an author, I held a pen (computers weren't around yet, eghads), a thick notebook of blank, unlined paper and I was always sitting on the beach.

From middle school I moved on to high school, and more adventurous writerly dreams – of being an ex-pat in Paris with Hemingway or at writing about fabulous parties like Fitzgerald.
At Vanderbilt University, I was an English major, especially enamoured by the Southern Writers of the 1940s and 1950s. Eudora Welty – amazing.

Have you read One Writer's Beginnings? You must!
The more practical aspect of becoming a writer always evaded me. I never quite had the courage to go for it, not until five years ago. Instead, I wrote for newspapers. For magazines. I wrote advertising copy, and radio scripts. Press releases and brochure copy. Television spots and speeches. Next, I joined my husband and we built a company together for almost 10 years. It was a great ride, an amazing experience.
But all along, I kept the dream alive. The dream of being able to say: I'm a writer. So when we sold our company, I put the dream into motion. And today, finally, that's what I say: I'm a writer.
So what's my day like? It's awesome. It's not glamorous, but it's just what I dreamed and more. Here's why. First, I'm actually living at the beach! For a girl who lived in Ohio most of her adult life, this is a big deal people. When I look out the window from my office, and it's sunny, and I can see the Pacific Ocean. Well, that's heaven.
Another factor adding to my incredible luck is that all four of my kids are happy. (knock wood) If you're a parent, you know what I mean. And if you're a writer, you know there's nothing worse for writer's block, than when one of you kids is unhappy. You're really only as happy as your saddest child, by the way.
I've met a bunch of authors and that's super cool. Both here in Laguna Beach where I live, and online, where I spend a lot of time, women writers are the most supportive, coolest people on the planet. My days are so much better because of this community.
Bottom line. My days, like yours, are a gift. To be able to do a job I've always dreamed of is a blessing. To have readers who enjoy my stories is simply the best feeling in the world. All in all, a day in the life of Kaira feels very wonderful right now.
About The Author:
Kaira Rouda is an award-winning entrepreneur and author. She lives in Southern California with her husband and four children and is at work on her next novel. Connect with her on Twitter, @KairaRouda, and on Facebook at Kaira Rouda Books. For more about Kaira and her books, please visit
www.KairaRouda.com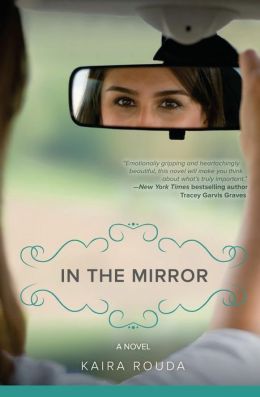 Be sure to check out Kaira's latest book, "In The Mirror." This novel takes readers on a beautifully heartbreaking story of a woman's battle with cancer, the return of a first love, and facing the very stark reality of life and family moving on without her. Kaira delivers an amazing story that will stay with the reader long after the final page is turned. I highly recommend it!
My thanks to Pump Up Your Book Promotion and the author for providing the review copy of Kaira's book and for providing this guest post. I was not compensated for my opinion.