Shining a spotlight on M.C. Beaton's 25th Agatha Raisin mystery - "The Blood of An Englishman! And what better way to celebrate than with a lovely cup of tea and a plate of genuine crumpets! (see below the book description for a wonderful crumpet recipe!)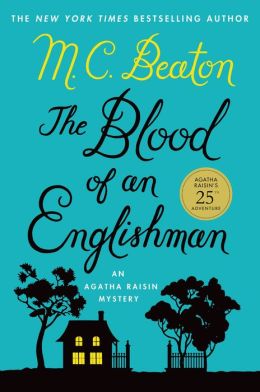 About The Book:
"Fee, fie, fo, fum. I smell the blood of an Englishman..."
Even though Agatha Raisin loathes amateur dramatics, her friend Mrs. Bloxby, the vicar's wife, has persuaded her to support the local pantomime. Stifling a yawn at the production of "Babes in the Woods," Agatha watches the baker playing an ogre strut and threaten on the stage, until a trapdoor opens and the Ogre disappears in an impressive puff of smoke. Only he doesn't re-appear at final curtain.
Surely this isn't the way the scene was rehearsed? When it turns out the popular baker has been murdered, Agatha puts her team of private detectives on the case. They soon discover more feuds and temperamental behavior in amateur theatrics than in a professional stage show—and face more and more danger as the team gets too close to the killer.

My Thoughts:
While it is often difficult to jump into a series midstream, let alone with the 25th installment, I was pleased to find that I could pick up "The Blood of an Englishman" and immediately join in the fun as amateur sleuth Agatha Raisin (what a cool last name!) and her friends as they try to find out who killed the "Ogre" from a local play production.
I loved the wonderfully cozy English flavor of this mystery, and was charmed with the cast of characters who work so well together. I'm inspired to go back and read the previous 24 books in this series! And I highly recommend this one!

About The Author:
M. C. BEATON has been hailed as the "Queen of Crime" (
The Globe and Mail
). Chosen as the British Guest of Honor at Bouchercon 2006, she is the
New York Times
bestselling author of twenty-four previous Agatha Raisin novels, the Hamish Macbeth series, and an Edwardian mystery series. Born in Scotland, she currently divides her time between Paris and the English Cotswolds.
Check out her website at
www.MCBeaton.com

Curl up with a steaming cup of tea and a plate of these easy-to-make crumpets, and you'll have a wonderful afternoon of reading and snacking! One of my favorite teas is Stash Teas - they have so many flavors to choose from - I love the English Breakfast Tea and the Raspberry tea that they have!
Classic Crumpets

(recipe from www.greatpartyrecipes.com)
1/2 cup warm water (105° - 115°)
2 teaspoons sugar or honey
1 tablespoon active dry yeast
2-1/2 cups all-purpose flour or bread flour
1 teaspoon salt
1/2 teaspoon baking soda
1-1/2 cups milk
In a large bowl, stir the sugar or honey into the warm water. Sprinkle the active dry yeast over the top and let it sit until it bubbles, about 5 minutes.
Stir in the remaining ingredients. Cover and let it sit for about half an hour in a warm place.
Grease a griddle or frying pan
and
the crumpet rings or cookie cutters. Place the rings on the cooking surface and preheat all.
Pour about 3 tablespoons of batter into each 3" ring and cook over medium low heat until set, about 10 minutes. (Avoid cooking them too quickly.) The top should be full of holes when they are ready to turn.
Remove the rings from the crumpets, turn, and brown the other side, if desired, for a minute or so. Repeat until all the batter is used.
Makes 16 crumpets.
My thanks to Minotaur Books and Stash Teas for providing the review copy of this book. I was not compensated for my opinion.
Weekend Cooking is a weekly meme sponsored by BethFishReads.com Check out what other bloggers are cooking up and reading!
www.bethfishreads.com