Happy Halloween, y'all! I saved all the treats for the big day, and the sweetest one of all is Laura Childs' fabulous new book in her Scrapbooking Mystery series, Gossamer!
About The Book:
Carmela Bertrand knows that Halloween in New Orleans means a week of rabble-rousing, costumed craziness—and she can't wait to get the party started. But when a local antiques dealer turns up dead, Carmela suddenly finds herself in a real-life danse macabre….
An evening's work deciding on the class schedule for her scrapbooking shop has put Carmela in the mood to kick up her heels. But after some strange noises draw her into Oddities, the neighboring antiques shop, Carmela's night is abruptly put on hold when a bloody body falls out of a curio cabinet—and into her arms.
While shop owner Marcus Joubert was known for being an eccentric with a penchant for eclectic merchandise, Carmela never thought he was the kind of man who could inspire the passion required to kill. But when Marcus's assistant—and fiancée—Mavis reveals that a priceless death mask was also stolen, it becomes clear that murder wasn't the culprit's sole intention.
Carmela can't resist the urge to investigate the growing mystery, but as the list of suspects increases, she realizes it'll take every trick in the book to unmask the killer thief before there's another night of murderous mischief….
My Thoughts:
Laura Childs is one of my favorite cozy mystery authors and it is always a treat when she has a new book released! I'm especially fond of her Scrapbooking Mystery series, which is set in the always fun and interesting New Orleans, and in my oh-so humble opinion - "Gossamer Ghost" is Laura's absolute best of the bunch!
Laura has a special way of pulling her readers right into the heart of the story and makes them feel like they are there with Carmela and Ava as they find themselves once again embroiled in another murder mystery in the "Big Easy." These gals are two smart cookies who always seem to find clues and answers that the police (and Carmela's honey, Detective Edgar Babcock) seem to overlook.
Throughout the story, Laura adds in fun sessions with Carmela's scrapbooking ladies, and as a special treat for readers, includes recipes for some of the yummy treats that the ladies are forever baking and cooking up!
So, this Halloween, treat yourself to a fun read with "Gossamer Ghost!" You'll be so glad you did - I promise!
About The Author: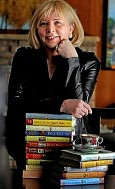 My thanks to the author for providing the review copy of this book. I was not compensated for my opinion.