Breast cancer awareness is something that should be done every day until a cure is found - not just for one month a year. So, keeping that in mind, I give you a beautifully written book on this disease by one who has been there herself.

Hardcover:
224 pages
Publisher:
Crown
About The Book:
From NPR News executive editor Madhulika Sikka comes an indispensable and approachable guide to life during, and after, breast cancer.
The biggest risk factor for breast cancer is simply being a woman. Madhulika Sikka's
A Breast Cancer Alphabet
offers a new way to live with and plan past the hardest diagnosis that most women will ever receive: a personal, practical, and deeply informative look at the road from diagnosis to treatment and beyond.
What Madhulika Sikka didn't foresee when initially diagnosed, and what this book brings to life so vividly, are the unexpected and minute challenges that make navigating the world of breast cancer all the trickier.
A Breast Cancer Alphabet
is an inspired reaction to what started as a personal predicament.
This A-Z guide to living with breast cancer goes where so many fear to tread: sex (S is for Sex – really?), sentimentality (J is for Journey – it's a cliché we need to dispense with), hair (H is for Hair – yes, you can make a federal case of it) and work (Q is for Quitting – there'll be days when you feel like it). She draws an easy-to-follow, and quite memorable, map of her travels from breast cancer neophyte to seasoned veteran.
As a prominent news executive, Madhulika had access to the most cutting edge data on the disease's reach and impact. At the same time, she craved the community of frank talk and personal insight that we rely on in life's toughest moments. This wonderfully inventive book navigates the world of science and story, bringing readers into Madhulika's mind and experience in a way that demystifies breast cancer and offers new hope for those living with it.
My Thoughts:
Madhulika Sikka has taken an ingenious look at a disease that frankly scares the #*&$ out of most people and gives it a humane, realistic and informative twist in this tiny book that is so full of pertinent wisdom, advice and information. Everyone who has either been diagnosed with, or knows someone who has been diagnosed with breast cancer should immediately get this book or give it as a gift - it will become a constant companion. I cannot recommend it highly enough!

Purchase Links
About The Author: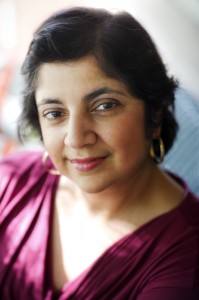 MADHULIKA SIKKA is a veteran broadcast journalist with decades of experience. Among other media outlets, she has worked at NPR News and ABC News.
Visit
Madhulika's website
for more information.
.
.

My thanks to TLC Book Tours for including me on this tour and for providing the review copy of this book. I was not compensated for my opinion.
.