Who doesn't have stress in their lives these days? Some of us, more than others, I'm sure!
Author Linda Evans Shepherd takes a look at how prayer can help ease and understand the stress in your life in her new book, "The Stress Cure: Praying Your Way To Personal Peace." With plenty of room to journal, prayer guidance and personal stories, Shepherd delivers a beautifully wise and inspiring book that is sure to help those who need peace in their lives.
Here's more about the book: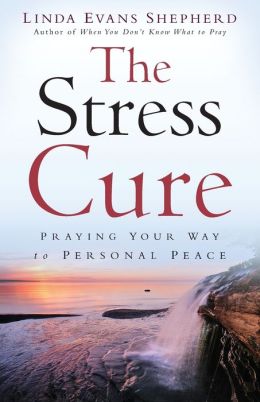 About The Book:
We live in a world filled to the brim with advice, and when it comes to dealing with stress, there's plenty of advice to go around. Sleep more, eat better, avoid this, seek out that. But more ideas about how to cope are not necessarily what we need if we're stressed and anxious.
What we need is a cure.
The true remedy to stress, Linda Evans Shepherd says, is prayer. In this inspiring book, she shows you how to recognize God's continual presence in your life and yield your troubles to the Prince of Peace. Through captivating stories, explorations of fascinating biblical characters, and examples of deeper-than-ever prayers, she brings within your grasp the peace that passes understanding. If you are overwhelmed by all of the urgent demands on your time, this book offers you a lifeline to true peace.
About The Author:
Linda Evans Shepherd
is an award-winning author, a popular speaker, and a radio personality. The president of Right to the Heart Ministries, she is the author of
When You Don't Know What to Pray
and
Experiencing God's Presence
. She and her husband live in Colorado. Learn more at
www.stressprayers.com
.
My thanks to Revell Books for providing the review copy of this book. I was not compensated for my opinion.