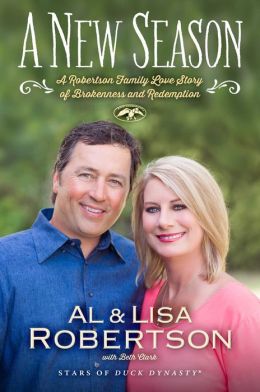 About The Book:
Alan and Lisa Robertson, members of America's favorite back woods family and the Duck Commander Clan, take on the topic of relationships as they share the secrets that saved their marriage.
Infidelity, deceit, distrust, and shame. Unfortunately, these are recurring themes in many of today's marriages in America—even in the family-values-promoting, Christian-based Robertson family.
With a romance that began in junior high, the couple got off to a rocky start but soon settled into married life and had two baby girls. Alan became a pastor in the church where his family had been members for years. Then, when Lisa had an affair, the heartache and the tension was very public.
But this is not a book about a marriage gone wrong. It is a candid story of rescued love and renewed commitment. After nearly getting divorced, Alan and Lisa came to terms with what went wrong in their marriage and both began the hard work of making it right. Now married for twenty-nine years, Alan and Lisa counsel couples in trouble and speak across the country—openly sharing their hardships, their journey to renewed commitment, and a thriving marriage.
My Thoughts:
Known as the "quieter" couple of the "Duck Dynasty" family, Al and Lisa Robertson truly lay out their lives and hearts in this book that details the extreme ups and devastating downs of their married life.
This was a difficult book to read as there were so many heart-breaking situations that this couple found themselves in, but it is also uplifting in that their faith eventually saw them through the darkness and now they share their lives hoping to help others in the same dire straits as they once were in.
Fans of the "Duck Dynasty" show will enjoy this rare look into the background of the Robertsons. It will also appeal to those looking for inspiration for married life and relationships.
About The Authors:
Alan Robertson grew up hunting, fishing, and helping build the family business in the 1970s and '80s. Alan left Duck Commander when he received the call for ministry in 1988 and served as a senior pastor in West Monroe, Lousiana, until 2012, when he rejoined the Duck Commander clan. Alan received an associate's degree from White's Ferry Road School of Biblical Studies and a bachelor in ministry from Sunset International Bible Institute. He lives in West Monroe, Louisiana, with his wife, Lisa, his two grown daughters, and two grandchildren.
Lisa Robertson is the wife of Alan Robertson and worked with him at the church in several different ministries before joining him back at Duck Commander.
Beth Clark is a writer and publishing consultant and runs a business called Thinkspot Communications in Franklin, TN.
My thanks to Howard Books for the review copy of this book. I was not compensated for my opinion.