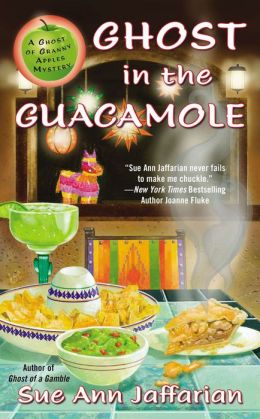 About The Book:
When two sisters feud over the family business, medium Emma Whitecastle doesn't need a Ouija board to know it spells trouble. But with a little help from the spirited ghost of Granny Apples, she may be able to solve one murder and prevent another . . .
Sisters Lucinda and Ricarda Ricardo—better known as Lucy and Rikki—are at each other's throats over the family business, Roble Foods. Lucy wants to sell and Rikki is against it. Rikki asks Emma to contact their deceased father, Felix, to help her convince Lucy not to sell.
But the ghost of Felix Ricardo has his own bombshell to drop—his death was not an accident, and Rikki's life may be in danger if the girls don't sell. Now it's up to Emma and Granny Apples to chip away at the mystery and stop a killer from double dipping in death . . .
My Thoughts:
Author Sue Ann Jaffarian brings back her feisty ghost of a heroine Granny Apples in her latest book, "Ghost In The Guacamole," and it's party time for every one - well, everyone except the ghost of Felix Ricardo, a restaurant owner whose death may not have been an accident! So it's up to Granny and her psychic granddaughter Emma to help unravel the mystery of Felix's death before another member of the Ricardo family finds themselves in deathly trouble.
I really enjoy the Granny Apples mystery series, and this installment is as hot as a ghost pepper (pun intended!). Not only is there a spicy mystery to solve, but Emma's romantic life gets a little boost in this story as well. Plus the character of Granny Apples is just a hoot, always poking her ghostly nose in places it doesn't belong - but the irascible little lady gets the job done - all in the name of helping Emma!
I think "Ghost In The Guacamole" is Sue Ann Jaffarian's best book to date, and I can't wait for her next one in this series!
About The Author:
Sue Ann Jaffarian
is the critically acclaimed author of three mystery series: the Ghost of Granny Apples Mysteries, the Odelia Grey Mysteries, and the Madison Rose Vampire Mysteries.
Sue Ann heard the siren call of writing early in her life, but did not make the commitment to become a novelist until about 1995. After completing two novels (still unpublished), she turned her attention to the mystery genre, and fell in love.
She now has nearly 20 published novels and numerous short stories to her credit.
She continues to write both mysteries and general fiction, as well as short stories, and belongs to two very supportive writers' associations: Sisters In Crime, and Mystery Writers of America.
Check out her website at
www.sueannjaffarian.com
for more info on her books!
My thanks to Berkley Prime Crime Books for the review copy of this book. I was not compensated for my opinion.