About The Book:
In Laura Childs's New York Times bestselling mystery series, Suzanne, Petra, and Toni—co-owners of the Cackleberry Club Café—are equally good at serving up breakfast and serving up justice. This time they turn up the heat on a deadly firebug.
As Suzanne is getting her hair colored at Root 66, she's stunned to witness the County Services office next door suddenly go up in flames. Concerned neighbors throng the streets, and the fire department does their best. Unfortunately, their best isn't enough to save longtime civil service worker—and friend to the Cackleberry Club—Hannah Venable.
Soon enough, it's discovered that an accelerant was used to fan the flames. Someone set the fire on purpose—was Hannah the intended victim? Suzanne, Petra, and Toni vow to smoke out the culprit.
Unfortunately, the list of suspects is as varied as the Cackleberry Club's menu. When Suzanne finds a possible connection between the fire and the nearby Prairie Star Casino, she comes to realize that the arsonist wanted something very big and bad kept secret. And if the ladies aren't careful, they may be the ones gambling with their lives…
My Thoughts:
Laura Childs has a wonderful way of involving her readers in her mystery series, and her latest book in the Cackleberry Club Mystery series, "Scorched Eggs," is a real delight for her fans! Returning to her warm cast of characters who live in the small town of Kindred, readers will feel like they are attending a family reunion of sorts - well, a family reunion that just happens to revolve around a mysterious murder of a beloved citizen!
I love to recommend Laura Childs' books - including the ones in her Scrapbooking Mystery series and the Tea Shop Mystery series - and I can guarantee that fans of cozy mysteries will love the Cackleberry Club series as well. Pick up "Scorched Eggs" for a fun winter read - you'll be glad you did!
About The Author: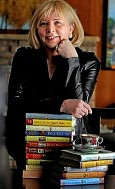 Laura Childs is the New York Times bestselling author of the Tea Shop Mysteries, the Scrapbooking Mysteries, and the Cackleberry Club Mysteries. The most recent of these, Gilt Trip, won the RT Book Reviews Reviewers' Choice Award for Best Amateur Sleuth. She is a consummate tea drinker, scrapbooker, and dog lover, and travels frequently to China and Japan with Dr. Bob, her professor husband. In her past life she was a Clio Award–winning advertising writer and CEO of her own marketing firm.
Check out her website at
www.laurachilds.com
for more info on her books!
My thanks to the author and Penguin Books for supplying the review copy of this book. I was not compensated for my opinion.