About The Book:
Growing up in 1950s California, young Anson William Heimlich showed very little promise. Clumsy, unsure of himself, and made to feel like a failure by his disappointed artist of a dad, Anson started working odd jobs as a teenager to help support his family.
His boss at one of these jobs, an aging African-American janitor named Willie, unexpectedly became a mentor—and the lessons he taught young Anson proved to be invaluable throughout his subsequent career as an actor, director, and entrepreneur.
In "Singing to a Bulldog," Anson Williams (as he came to be known) relates both these lessons and the never-before-revealed stories of the many seminal TV series he has worked on and the famous (and not-so-famous) folks he's encountered during his 40 years in Hollywood, including:
• being directed by Steven Spielberg in his first dramatic role
• getting kidnapped by Gerald Ford's daughter at the White House
• subbing for Sammy Davis, Jr., as a headliner with Bill Cosby
• being humbled by Sunny, a young volunteer for the Cerebral Palsy National Organization
• mentoring Shailene Woodley on the set of "The Secret Life of the American Teenager"
and many more.
This compelling read has a cross-generational and broad appeal, combining all the fun of a celebrity memoir with the emotional impact of an inspirational bestseller. With "Singing to a Bulldog," Anson Williams brings his gift of storytelling to a new medium in a book that is sure to touch readers' hearts and lives as profoundly as Willie once touched his.
My Thoughts:
When I was younger, I watched a lot of television, and the "Happy Days" series was one of my favorites, and, Anson Williams (as "Potsie") was my favorite character on the show. I loved the way he sang and I loved how despite how cute he was, he was humble-acting. So I was intrigued to read his memoirs, and "Singing To A Bulldog" did not disappoint.
Written in an unique fashion, Williams takes his readers inside his personal life story through his memories, through the good times, and the surprising rough times that Williams experienced. While recounting the important life lessons that he picked up along the way, be it from advice he garnered from a wise man he worked with in a department store, or wisdom he learned from his close friends and peers in the entertainment industry, Williams shows that he managed to stay down-to-earth through his career and that is what makes his story so intriguing.
I highly recommend this book for both adult readers as well as young adults.
About The Author: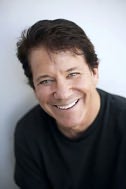 Best known for his Golden Globe nominated role as Warren "Potsie" Weber on the series Happy Days, Anson Williams is also an award-winning television director and writer as well as a singer and producer.
He has directed more than 300 hours of television for a variety of series, including Beverly Hills, 90210, Sabrina the Teenage Witch, and The Secret Life of the American Teenager. He won the prized Humanitas Award for his writing, has been honored by the United States Patent and Trademark Office, and served on the board of the USO.
Together with business partner JoAnna Connell, he founded StarMaker Products, an international product company.
He lives with his wife and five daughters in Los Angeles, California.
My thanks to FSB Associates for providing the review copy of this book. I was not compensated for my opinion.