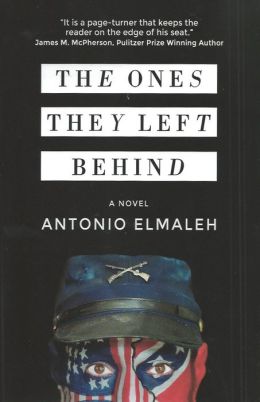 About The Book:
The Ones They Left Behind
is a sweeping and engrossing historically accurate account of post-Civil War America told through the eyes of one man, Harriman Hickenlooper, a Civil War veteran, who singlehandedly begins to heal the wounds of a country, bitter and divided by war, by recreating Sherman's March to the Sea. This time, instead of carrying a gun, Harriman will carry a flag. Instead of marching for war, he will march for peace.
His journey is fraught with danger, pain, and healing -- not only for himself, but for an entire nation. The Ones They Left Behind is a story every American needs to read. The parallels of our country's bloodiest war to the current divisiveness in today's America are clear. Looking to the past may keep us from repeating the same mistakes today. The Ones They Left Behind is more than an historical novel, it is a blueprint for healing America today.
My Thoughts:
I was absolutely entranced by this beautifully written novel. I am a fan of Civil War novels and have read quite a few - and "The Ones They Left Behind" is one of the most uniquely told stories that I have had the pleasure to read.
Author Antonio Elmaleh obviously did a great amount of research to create a tale that captures the after-math of the Civil War and how the people of both the North and the South were affected in such drastically different ways.
But what I really appreciated in this book is that Elmaleh not only presents a captivating historical novel of a heart-wrenching journey, he intertwines a passionate love story that grabs the reader by the heart. The characters are unforgettable and the resolution of Hickenlooper's quest is satisfying and memorable.
I join such esteemed authors as Thomas Steinbeck and Pulitzer-Prize winning Civil War author James McPherson in highly recommending "The Ones They Left Behind." Historical novel fans will appreciate this book as well as readers who seek out great literature.
About The Author:
Antonio Elmaleh has had careers in film production/distribution and real estate. An author of memoirs, short stories, and screenplays,
The Ones They Left Behind
is his first novel. He lives in New Jersey on Animal Farm (No Pigs).
Check out his website at
www.antonioelmaleh.com
My thanks to Marich Media and the author for providing the review copy of the book. I was not compensated for my opinion.