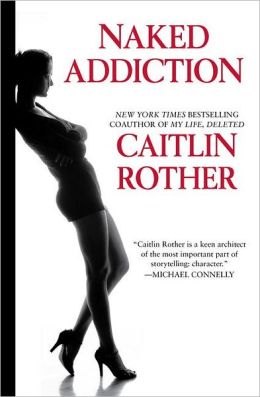 About The Book:
A ticket to Homicide.
That was the first thing disgruntled narcotics detective Ken Goode thought when he found the body of a beautiful murdered woman. But his transfer became the last thing on his mind when more victims turned up—all linked to the same beauty school his sister attends.
With time running out, a killer on the loose, and the danger hitting too close to home, Goode has to stop this murderer while fighting his own growing obsession with one of the very women he's trying to save.
My Thoughts:
Author Caitlin Rother is well known for her spine-tingling true crime books. Now she has taken her investigative journalistic skills to create an equally chilling novel that will both enthrall and captivate readers with its intriguing twists and turns.
Rother's characters are fully developed and personable, and her storytelling skills are evident in this compelling story. The main character, detective Ken Goode, is a good guy who has had a life full of hard luck and while flawed he overcomes odds to do his job admirably. For me, a sign of a fascinating book is if you can picture it as a movie in your mind - and I easily could see this story playing out on the big-screen!
If you enjoy novels that keep you guessing to the very surprising end, you'll enjoy "Naked Addiction." I highly recommend it!
About The Author:
New York Times
bestselling author Caitlin Rother has written or co-authored ten books, ranging from true crime to memoir to crime fiction, and is now working on books #11 and 12.
Her latest releases are her updated and revised novel, NAKED ADDICTION, and I'LL TAKE CARE OF YOU, which explores the cold-case murder of Newport Beach multimillionaire Bill McLaughlin by his femme fatale fiancee and her NFL-linebacker lover. Next out, in November 2015, will be THEN NO ONE CAN HAVE HER, chronicling the story behind the murder of artist and therapist Carol Kennedy 35 days after the finalization of her divorce from her "soulmate" ex-husband, investment broker Steve DeMocker, and the roller-coaster ride to justice in the small mountain town of Prescott, Arizona.
The Los Angeles Times
described her controversial LOST GIRLS
as "a deeply reported, dispassionately written attempt to determine what created that monster and predator [John Gardner]. It is a cautionary tale and a horror story, done superbly by a writer who knows how to burrow into a complex case without becoming captive to her sources."
LOST GIRLS
was voted #4 in the top 10 true crime books for 2012, and two of her other books were selected in the top 10 for 2011.
Rother, a Pulitzer Prize nominee and two-time San Diego Book Awards finalist, worked as an investigative reporter at daily newspapers for 19 years before deciding to write narrative non-fiction books full-time. Her journalism has also been published in
Cosmopolitan
, the
Los Angeles Times
, the
U-T
, the
Chicago Tribune, The Washington Post, The Boston Globe, The Huffington Post
and
The Daily Beast
. Rother has done more than 100 appearances on TV and radio on shows including,
Nancy Grace
,
Snapped
, the
Jay Thomas Show
, Greta Van Susteren's
On the Record
,
America at Night
, and on numerous programs on Investigation Discovery, E!, XM Radio,
and various PBS affiliates. She also works as a book doctor and writing/research/promotions coach and consultant.
My thanks to the author for supplying the review copy of this book. I was not compensated for my opinion.