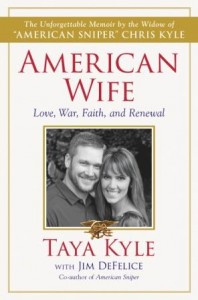 About American Wife
• Hardcover: 304 pages
• Publisher: William Morrow (May 4, 2015)
The widow of "American Sniper" Chris Kyle shares her private story: an unforgettable testament to the power of love and faith in the face of war and unimaginable loss--and a moving tribute to a man whose true heroism ran even deeper than the legend.
In early 2013, Taya Kyle and her husband Chris were the happiest they ever had been. Their decade-long marriage had survived years of war that took Chris, a U.S. Navy SEAL, away from Taya and their two children for agonizingly long stretches while he put his life on the line in nearly every major battle of the Iraq War. After struggling to readjust to life out of the military, Chris had found new purpose in redirecting his lifelong dedication to service to supporting veterans and their families. Their love had deepened, and, most special of all, their family was whole, finally.
Then, the unthinkable. On February 2, 2013, Chris was killed while attempting to help a troubled vet. The life they fought so hard to build together was shattered. In an instant, Taya became a single parent of two. A widow. A young woman facing the rest of her life without the man she loved.
Chris and Taya's remarkable story has captivated millions through Clint Eastwood's blockbuster, Academy Award-nominated film American Sniper, starring Bradley Cooper as Chris and Sienna Miller as Taya, and because of Chris's bestselling memoir, in which Taya contributed passages that formed the book's emotional core. Now, with trusted collaborator Jim DeFelice, Taya writes in never-before-told detail about the hours, days, and months after his shocking death when grief threatened to overwhelm her. Then there were wearying battles to protect her husband's legacy and reputation.
And yet throughout, friendship, family, and a deepening faith were lifelines that sustained her and the kids when the sorrow became too much. Two years after her husband's death, Taya has found renewed meaning and connection to Chris by advancing their shared mission of "serving those who serve others," particularly military and first-responder families. She and the children now are embracing a new future, one that honors the past but also looks forward with hope, gratitude, and joy.
American Wife is one of the most remarkable memoirs of the year -- a universal chronicle of love and heartbreak, service and sacrifice, faith and purpose that will inspire every reader.

Purchase Links
My Thoughts:
Becoming a widow is one of the most devastating events in a wife's life.
But when your husband is in the public eye as "American Sniper" Chris Kyle was, the process is triple hard, especially when the cause of death is a vicious murder and the media are swarming everywhere non-stop.
Taya Kyle, widow of Chris Kyle, talks about her experience and how it affected her life in this inspirational and awe-inspiring book. But this story is not just about the high-profile case - this is also Taya and Chris' love story, it is the story of their marriage - the good times and the bad, it is the story of their family and how their faith carried them through and it is about Taya's courage to carry on her husband's mission of "serving those who serve us."
This is a memoir that no wife should ever have to write, but Taya shares her overwhelming grief and her immense pride in her husband and family with stunning graciousness and a powerful and inspiring dedication. It was an honor to be asked to review this book and I highly recommend it as a must-read for the summer.

About
Taya Kyle
Taya Kyle founded the Chris Kyle Frog Foundation in honor of her late husband Chris Kyle, legendary U.S. Navy SEAL and author of the bestsellers American Sniper and American Gun. The foundation is devoted to strengthening the marriages of veterans and first responders. An active public speaker, Taya Kyle makes frequent appearances at fund-raisers and other events, inspiring others to find strength and persevere through struggles. She and her two children live in Texas.
Check out the Chris Kyle Frog Foundation for more information on Taya's book as well as the foundation's project at
www.chriskylefrogfoundation.com
My thanks to TLC Book Tours for including me on this blog tour and to William Morrow Books for providing the review copy. I was not compensated for my opinion.