About Hotel Moscow
•
Paperback:
464 pages
•
Publisher:
William Morrow Paperbacks (June 2, 2015)
From the author of
Jerusalem Maiden
comes a mesmerizing, thought-provoking novel that tells the riveting story of an American woman—the daughter of Holocaust survivors—who travels to Russia shortly after the fall of communism, and finds herself embroiled in a perilous mafia conspiracy that could irrevocably destroy her life.
Brooke Fielding, a thirty-eight year old New York investment manager and daughter of Jewish Holocaust survivors, finds her life suddenly upended in late September 1993 when her job is unexpectedly put in jeopardy. Brooke accepts an invitation to join a friend on a mission to Moscow to teach entrepreneurial skills to Russian business women, which will also give her a chance to gain expertise in the new, vast emerging Russian market. Though excited by the opportunity to save her job and be one of the first Americans to visit Russia after the fall of communism, she also wonders what awaits her in the country that persecuted her mother just a generation ago.
Inspired by the women she meets, Brooke becomes committed to helping them investigate the crime that threatens their businesses. But as the uprising of the Russian parliament against President Boris Yeltsin turns Moscow into a volatile war zone, Brooke will find that her involvement comes at a high cost. For in a city where "capitalism" is still a dirty word, where neighbors spy on neighbors and the new economy is in the hands of a few dangerous men, nothing Brooke does goes unnoticed—and a mistake in her past may now compromise her future.
A moving, poignant, and rich novel,
Hotel Moscow
is an eye-opening portrait of post-communist Russia and a profound exploration of faith, family, and heritage.

Purchase Links
My Thoughts:
Plunging her readers into the early 1990s and post-communism Russia, author Talia Carner presents a dramatic, fast-paced rollercoaster of a story that will keep readers on the edge of their seats to the very satisfying ending.
Combining the main character's background as the child of Holocaust survivors with her present-day position as a woman executive on a mission trip to advise Russian women on how to start up businesses of their own, Carner has molded a fascinating and admirable character who is strong and yet vulnerable to the many horrible situations she runs into.
This is a thoroughly enjoyable read - there is suspense, a bit of romance, and a bit of a history lesson combined. The setting of the violent yet mesmerizing landscape of Russia is gripping and the cast of characters are intriguing as well.
I highly recommend this novel.
About Talia Carner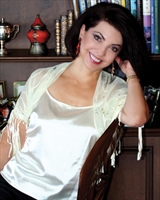 Talia Carner is the former publisher of
Savvy Woman
magazine and a lecturer at international women's economic forums. This is her fourth novel.
Visit Talia at her website,
taliacarner.com
. You can also connect with her on
Facebook
and
Twitter
.
My thanks to TLC Book Tours for including me on this book tour and to William Morrow Books for providing the review copy.
I was not compensated for my opinion.