About Love is Red
• Hardcover: 384 pages
• Publisher: Harper (May 12, 2015)
This electrifying, addictive, and hypnotically beautiful debut spins suspense and literary fantasy into a stunning epic—the first volume in the Night Song Trilogy—ablaze with fear, mystery, and possibility.
Katherine Emerson was born to fulfill a dark prophecy centuries in the making, but she isn't aware that this future awaits. However, there is one man who knows the truth: A killer stalking the women of New York, a monster the media dubs the "Sickle Man" because of the way he turns his victims into canvasses for his mesmerizing, twisted art.
Unleashed upon Manhattan after lying dormant for centuries, the Sickle Man kills to harvest the precious hues of his victims. As his palette grows, so too does his power. Every death brings him closer to the one color, and the one woman, he must possess at any cost.
While the city hunts the Sickle Man, Katherine must decide what to do about two men who have unexpectedly entered her life: handsome and personable David, and alluring yet aloof Sael. Though she's becoming increasingly torn between them, how well does she really know them? And why is she suddenly plagued by disturbing visions?
Told from the alternating viewpoints of Katherine and the Sickle Man, Love Is Red is a riveting thriller that unfolds into an intense story of obsession and control, desire and fate. Katherine may not realize it yet, but with this haunting novel—as arrestingly original as Marisha Pessl's Night Film, Patrick Süskind's Perfume, and Lauren Beukes's The Shining Girls—her moment of awakening is here. And soon she will find herself fighting a battle at the edges of our world, among forces more dangerous than we can possibly imagine.
My Thoughts:
Part mystical paranormal, part sultry romance and part spine-tingling suspense, "Love Is Red" is an emotional rollercoaster of a story that pulls the reader into the heart of the tale that is shocking, mesmerizing and incredibly well told.
Author Sophie Jaff has created a cast of fascinating characters, both other-worldly and real, in this tale. I was intrigued by her use of colors to describe the different emotion the main protagonist sought out in his victims, and I also admired the strength and intelligence of the main female character.
"Love Is Red" is definitely a book you will not forget. Although it was not quite my usual taste of reading material, I can highly recommend it for those who enjoy a spooky-good story - you just might not want to read it at night!

Purchase Links
About Sophie Jaff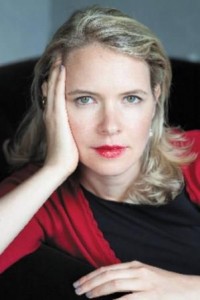 A native of South Africa, Sophie Jaff is an alumna of the Graduate Musical Theatre Writing Program at Tisch School of the Arts, New York University, and a fellow of the Dramatists Guild of America. Her work has been performed at Symphony Space, Lincoln Center, the Duplex, the Gershwin, and Goodspeed Musicals. She lives in New York City.
My thanks to TLC Book Tours for including me on this tour and to Harper Collins Books for supplying the review copy. I was not compensated for my opinions.