My husband's people are from Alabama - the central part, and we travel there quite often to see them. You can hardly set foot in the state without being drawn into the Southerness of, well, everything!
When we go, I like to read Southern-themed books and one of my absolute favorites is the classic "To Kill A Mockingbird!" Harper Lee captured a piece of Southern history that is timeless and her characters are ones who are familiar to us as members of our own families.
Monroe County Courthouse - the inspiration for the "courtroom" scene.
One of my favorite memories of "reading" the book is on a Alabama trip with our four sons. The two oldest boys were junior high aged and the other two a little younger, so we decided to tackle a couple of the summer "required" reading books on tape as we traveled. One of those was "To Kill A Mockingbird." The set I found was 8 hours long, and we started it thinking that the boys would soon fall asleep as they listened. As soon as it got real quiet in the back, I reached over to turn the tape off and I hear "Hey, turn that back on, we were listening to that!" I looked back, and sure enough all four boys were wide-awake and interested!! So we listened to the entire story rolling down the road and a great family memory was made!
So, with all the hullabaloo surrounding the new book, "Go Set A Watchman," I thought it might be good to revisit "TKAM" to refresh my poor swiss-cheese mind with the story.
About The Book:
Harper Lee's Pulitzer prize-winning masterwork of honor and injustice in the deep south—and the heroism of one man in the face of blind and violent hatred.
One of the best-loved stories of all time,
To Kill a Mockingbird
has been translated into more than forty languages, sold more than thirty million copies worldwide, served as the basis for an enormously popular motion picture, and was voted one of the best novels of the twentieth century by librarians across the country.
A gripping, heart-wrenching, and wholly remarkable tale of coming-of-age in a South poisoned by virulent prejudice, it views a world of great beauty and savage inequities through the eyes of a young girl, as her father-a crusading local lawyer-risks everything to defend a black man unjustly accused of a terrible crime.
My Thoughts:
It is so easy to get lost in the lyrical prose found in "To Kill A Mockingbird." Harper Lee draws her readers into the story of Scout Finch and her family and one summer that changed all of their lives forever. The characters are memorable - who doesn't wish for a Southern gentleman like Atticus, and who hasn't known a feisty little girl like Scout or a brave boy like Jem.
But for me, it's the descriptions of the people, the town, the atmosphere that makes this novel such a wonderful experience to read. Yes, there is the violence of the central story as well as the realism of the difficulties of the times, but overall this is a tale that will remain memorable for all time.
It's a great book for adults, but young readers will enjoy it as well. It's no wonder that this book has sold millions of copies, has been translated into scores of languages and is a part of nearly every student's required reading.
About The Author: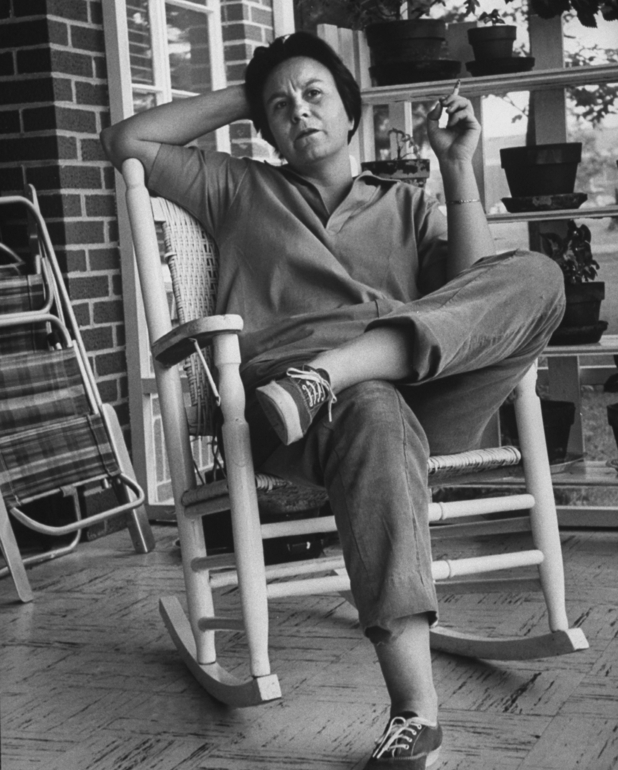 Nelle Harper Lee is known for her Pulitzer Prize-winning novel To Kill a Mockingbird, her only major work. In 1999, it was voted "Best Novel of the Century" in a poll by Library Journal. Ms. Lee was awarded the Presidential Medal of Freedom for her contribution to literature in 2007. Her father was a lawyer who served in the Alabama state legislature from 1926 to 1938.
As a child, Lee was a tomboy and enjoyed the friendship of her schoolmate, Truman Capote. After completing To Kill a Mockingbird, Lee accompanied Capote to Holcomb, Kansas, to assist him in researching his bestselling book, In Cold Blood. Since publication of To Kill a Mockingbird, Lee has granted very few requests for interviews or public appearances. (courtesy of Amazon.com)
This book is a part of my personal library. I was not compensated for my opinion.