I'm doing this post as a double review for the books of Shona Patel. This talented Indian author caught my attention with her novel, "Teatime For The Firefly," and kept it with her latest book, "Flame Tree Road." I thought that I would combine each review since they are interrelated to each other and make for a wonderful pairing of reading.
First, "Teatime For The Firefly."
About The Book:
Layla Roy has defied the fates. Despite being born under an inauspicious horoscope, she is raised to be educated and independent by her eccentric grandfather, Dadamoshai. And, by cleverly manipulating the hand fortune has dealt her, she has even found love with Manik Deb—a man betrothed to another. All were minor miracles in India that spring of 1943, when young women's lives were predetermined—if not by the stars, then by centuries of family tradition and social order. Layla's life as a newly married woman takes her away from home and into the jungles of Assam, where the world's finest tea thrives on plantations run by native labor and British efficiency. Fascinated by this culture of whiskey-soaked expats who seem fazed by neither earthquakes nor man-eating leopards, she struggles to find her place among the prickly English wives with whom she is expected to socialize, and the peculiar servants she now finds under her charge. But navigating the tea-garden set will hardly be her biggest challenge. Layla's remote home is not safe from the powerful changes sweeping India on the heels of the Second World War. Their colonial society is at a tipping point, and Layla and Manik find themselves caught in a perilous racial divide that threatens their very lives.
My Thoughts:
In her debut novel, Shona Patel captures the beauty and the romance of the tea plantations of Assam, India with her brilliantly crafted descriptions and her fascinating cast of characters.
Patel also captures the agony and the hardships of the tea-infused region as well as she tells the story of Layla Roy Deb and her life as she adapts to the jungle, to her new marriage, her handsome but a little selfish husband Manik, and to a new way of living in the Post WWI-era Colonial English society that she has been thrust into.
This is a beautiful story and I thoroughly enjoyed the richness of Patel's words and the intrigue of this amazing part of the world.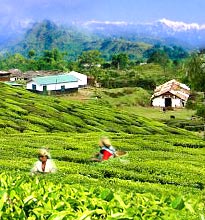 A glimpse of a tea plantation in Assam
About The Book:
From the acclaimed author of
Teatime for the Firefly
comes the story of a man with dreams of changing the world, who finds himself changed by love.
1870s India. In a tiny village where society is ruled by a caste system and women are defined solely by marriage, young Biren Roy dreams of forging a new destiny. When his mother suffers the fate of widowhood—shunned by her loved ones and forced to live in solitary penance—Biren devotes his life to effecting change. Biren's passionate spirit blossoms as wildly as the blazing flame trees of his homeland. With a law degree, he goes to work for the government to pioneer academic equality for girls. But in a place governed by age-old conventions, progress comes at a price, and soon Biren becomes a stranger among his own countrymen.
Just when his vision for the future begins to look hopeless, he meets Maya, the independent-minded daughter of a local educator, and his soul is reignited. It is in her love that Biren finally finds his home, and in her heart that he finds the hope for a new world.
My Thoughts:
Shona Patel follows up her debut novel with a continuation of the Roy family story with her prequel novel, "Flame Tree Road." This time she concentrates on Biren Roy, the patriarch of the family and his story of growing up in 1870s India and how he overcame desperate hardships to become one of the most respected men of his community.
This is also a love story of the women in Biren's life and how they influenced him - from his beloved mother, to the Scottish lady, to the love of his life, to his precious and beautiful daughter. (Biren is the grandfather of Layla Roy Deb from "Teatime For The Firefly.")
Once again, Patel paints a beautiful portrait of her beloved India as she shares the history of the area and of the times surrounding the story. Her cast of characters are so carefully crafted and her storytelling pulls you right into the heart of the tale and doesn't let go easily. I so enjoyed this story, and look forward to more from this brilliant author.
About The Author:
My thanks to Mira Books for providing the review copies of these books. I was not compensated for my opinion.