About The Book:
Juggling motherhood and her job as a real-estate agent, Elizabeth Jordan wishes her husband could help more around the house. But Tony's rising career as a pharmaceutical salesman demands more and more of his time. With a nice home in the suburbs and a lovely young daughter, they appear to have it all—yet they can't seem to spend time together without fighting.
Hoping for a new listing, Elizabeth visits the home of Clara Williams, an elderly widow, and is both amused and uncomfortable when Clara starts asking pointed questions about her marriage and faith. But it's Clara's secret prayer room, with its walls covered in requests and answers, that has Elizabeth most intrigued . . . even if she's not ready to take Clara's suggestion that she create a prayer room of her own. As tensions at home escalate, though, Elizabeth begins to realize that her family is worth fighting for, and she can't win this battle on her own.
Stepping out in blind faith, putting her prayers for her family and their future in God's hands, might be her only chance at regaining the life she was meant for.
Award-winning author Chris Fabry brings page-turning drama to the inspiring War Room screenplay by Alex and Stephen Kendrick, creators of Courageous, Fireproof and Facing the Giants. The book's bonus features include a reading group guide and production and movie photos. Available in hardcover, softcover, and eBook formats.
My Thoughts:
I've been waiting anxiously for the new faith-inspired movie, "War Room," to make it's debut, so I was delighted to find that there is a novelization of the movie available in bookstores now! And what a great way to gear up for the upcoming movie!
Author Chris Fabry takes readers on the journey that finds Tony and Elizabeth Jordan seeking a new commitment to their lives that they never dreamed of - and it's all with the help of prayer-warrior Clara Williams. Guiding Elizabeth to strengthen her prayers as she battles to keep her marriage from falling apart, the wise older woman shares her faith and her experiences in an effort to keep this young family together. And through it all, a tiny prayer closet is the base for the heart-felt submissions and prayers for the Lord's help.
"War Room" is one of the most powerful and spiritual novels that I've had the pleasure of reading this year. If you have ever wondered if a strong prayer life is essential, then this is the book for you. This is a beautifully presented story with a cast of unforgettable characters and a fast-paced tale that will remain in your heart long after the last page is turned.
Included in the book are still-shots from the movie, which opens nation-wide this weekend, giving the reader a chance to get a "sneak peek" at the film upon which the novel is based on. I can't wait to see the movie, and will have a review of it up next week!
I highly recommend "War Room" for those who enjoy faith-based, spirit-filled stories. It will be a blessing on your life!
About The Author: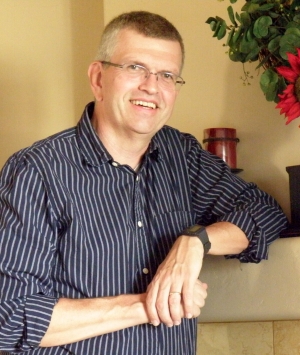 Chris Fabry is an award-winning author and radio personality who hosts the daily program
Chris Fabry Live!
on Moody Radio. He is also heard on
Love Worth Finding
,
Building Relationships with Dr. Gary Chapman
, and other radio programs. A 1982 graduate of the W. Page Pitt School of Journalism at Marshall University and a native of West Virginia, Chris and his wife, Andrea, now live in Arizona and are the parents of nine children.
Chris' novels, which include
Dogwood
,
June Bug
,
Almost Heaven
,
Not in the Heart
,
Borders of the Heart
, and
Every Waking Moment
, have won three Christy Awards, an ECPA Christian Book Award, and
Christianity Today
's Book Award of Merit, but it's his lyrical prose and tales of redemption that keep readers returning for more.
He has also published more than 65 other books, including nonfiction, film novelizations, and novels for children and young adults. He coauthored the
Left Behind: The Kids
series with Jerry B. Jenkins and Tim LaHaye, as well as the
Red Rock Mysteries
and
The Wormling
series with Jerry B. Jenkins.
RPM
is his latest series for kids and explores the exciting world of NASCAR.
Check out his website at
www.chrisfabry.com
I purchased this book for my personal library. I was not compensated for my opinion.