About The Book:
• Paperback
• Publisher: Inanna Publications
Alastair Luce is a dreamer, one of three who tell this tale.
A Canadian expat in the 1950s, he lives in a New York City suburb with his wife, Nora, a passionate American who misses the excitement of wartime life and finds an outlet — and a lover — during the Red scare. Alastair's an artist, a quiet man who paints houses for a living, fears atomic holocaust, drinks too much and worries about his suffering child Grace. Just before the accident that kills his daughter's best friend Todd, he offers a ride to their teenage neighbour, Claire Bernard.
She continues the story as a witness to tragedy, a wry observer of suburban mores and a compassionate friend of Alastair, whose talent and politics she'd long admired. Yet in the era of Vietnam, she's not prepared for his love or his anguish as she marries and leaves for Canada.
In Toronto, it's Alastair's exiled daughter Grace who speaks, giving voice to her fury, an artist who works to "burn" the city down with brilliant colour, who resents Claire for hurting her dad, and still grieves the loss of young Todd. Yet Grace, Claire and Alastair are bound together by their history, and a crisis draws their painful stories to a climax. It's then that Grace ventures homeward for the first time, into a startling vision of the unknown.
Praise for "Here Comes The Dreamer"
Here Comes the Dreamer
is a moving account of how a tragic accident changes, and haunts, the intertwined lives of a painter, his gifted and troubled daughter, and the young woman who befriends them. It astutely probes the moods and mores of suburban America in the '50s and '60s, and later, of Toronto. Combining rich lyrical language, inspired narration, and sensitive psychological insight, this is fiction of the most darkly illuminating, deeply touching kind. —Allan Briesmaster, author of
Against the Flight of Spring
and
Confluences
Giangrande's writing is warm and intelligent, honest and kind.
Here Comes the Dreamer
is filled with the richness of character and intersecting lives. —Irene Guilford, author of
The Embrace
My Thoughts:
Fans of intense family-based drama will enjoy "Here Comes The Dreamer." Author Carole Giangrande has crafted a story that intertwines the life of three heart-broken people and follows their journey to acceptance and forgiveness.
The characters in this novella are very complicated, but very intriguing as well. Giangrande skillfully brings all the necessary elements of a well-written story together with detailed backgrounds and often heart-wrenching elements that will linger with the reader long after the tale is finished. A very thought-provoking novella. I look forward to reading more of Giangrande's work in the future.

Purchase Links
About Carole Giangrande: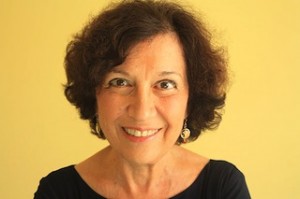 Born and raised in the New York City area,
Carole Giangrande
is a Toronto-based novelist and author of eight books, including the award-winning novella,
A Gardener On The Moon
, the novels
An Ordinary Star
and
A Forest Burning
, a short story collection,
Missing Persons
and the novella,
Midsummer
. Her new novella,
Here Comes The Dreamer
, will be published in September.
A former broadcast-journalist, she worked for CBC Radio (Canada's public broadcaster) as co-host of the popular
Radio Noon
program. She's read her fiction at Toronto's Harbourfront Centre, at the Banff Centre for the Arts (as an Artist-in-Residence), the University of Toronto, on radio and at numerous public venues. Her fiction, articles and reviews have appeared in Canada's major journals and newspapers and her 50-part literary podcast
Words to Go
has been downloaded over 20,000 times in 30 countries. She is currently at work on a novel.
Visit Carole's website at
www.carolegiangrande.com
, and connect with her on
Facebook
and
Twitter
.
My thanks to TLC Book Tours for including me on this tour and for providing the review copies of the book. I was not compensated for my opinion.