About Mendocino Fire
• Hardcover: 272 pages
• Publisher: Harper (October 20, 2015)
The long-awaited return of a writer of rare emotional wisdom.
The son of an aging fisherman becomes ensnared in a violent incident that forces him to confront his broken relationship with his father. A woman travels halfway across the country to look for her ex-husband, only to find her attention drawn in a surprising direction. A millworker gives safe harbor to his son's pregnant girlfriend, until an ambiguous gesture upsets their uneasy equilibrium.
These and other stories—of yearning, loss, and tentative new connections—come together in Mendocino Fire, the first new collection in two decades from the widely admired Elizabeth Tallent.
Diverse in character and setting, rendered in an exhilarating, exacting prose, these stories confirm Tallent's enduring gift for capturing relationships in moments of transformation: marriages breaking apart, people haunted by memories of old love and reaching haltingly toward new futures. The result is a book that reminds us how our lives are shaped by moments of fracture and fragmentation, by expectations met and thwarted, and by our never-ending quest to be genuinely seen.
Profound yet elemental, Mendocino Fire marks the welcome return of a sage and surprising voice in American fiction.

Purchase Links
My Thoughts:
"Mendocino Fire" is a collection of ten relatively short stories that deal with a wide variety of situations. With characters who run the gambit from a son trying to prove himself to his father to a young writer falling in love with her mentor to a woman who makes mysterious calls to her ex-husband. All are unique, all are enthralling, and all are situations that most people can relate to or have experienced themselves.
Author Elizabeth Tallent pulls her readers into each vignette with her highly intelligent style of writing. Each story offers the reader a glimpse into a different world, different problems, different ways that people handle their lives.
"Mendocino Fire" is a fascinating collection. Those who are interesting in literary fiction that make you stop and think will enjoy this book.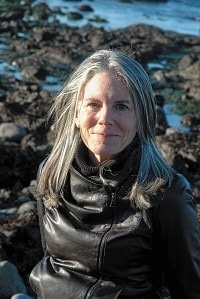 About Elizabeth Tallent
Elizabeth Tallent is the author of the story collections Honey, In Constant Flight, and Time with Children, and the novel Museum Pieces. Since 1994 she has taught in the Creative Writing program at Stanford University. She lives on the Mendocino coast of California.
My thanks to TLC Book Tours for including me on this tour and to Harper Books for providing the review copy. I was not compensated for my opinion.