Mass Market Paperback: 320 pages
Publisher: HQN Books (November 24, 2015)
New York Times and USA TODAY bestselling author Diana Palmer is back in Wyoming with a tale of love born in Big Sky Country…
Billionaire oilman Blair Coleman has always taken care of his business. After having been used and cast aside by a woman he thought he loved, his personal life is far from his first priority. He knows only one has ever truly cared for him—but the irresistible blonde beauty is the daughter of his best friend.
Niki Ashton has seen her father's friend wounded and she's seen him fight. Blair is the strongest—and most stubborn—man she's ever known. That very heart and passion makes him the man of her dreams, but whenever they've been in danger of getting close, Blair has always pushed her away.
It takes a possible tragedy to strip away all of Blair's misgivings. Now it's all or nothing: marriage, baby, family, forever. But will the choice be too much for Niki…or too late?

Purchase Links
My Thoughts:
I have not had the pleasure of reading any of Diana Palmer's previous novels, which surprised me as she has nearly two hundred titles to her credit. So I was anxious to see what makes this author so appealing to so many. I soon found out it is Palmer's descriptive style of writing that pulls her fans into the story and makes them feel a part of the thrilling, and sensual activities of the characters.
"Wyoming Rugged" can be called a "December/May" romance, as the main character, Niki Ashton is 16 years younger than the man she loves. This could be a rather tricky scenario for an author to deal with, but Palmer does so with a gentle but entertaining touch! I enjoyed the backdrop of Wyoming/Montana for this story as well. Fans of contemporary romance as well as western-flavored romance will be glad to add this title to their list of books to read!
"Wyoming Rugged" is the fifth book in Diana Palmer's "Wyoming Men" series, but first time readers can easily join into the series with this story.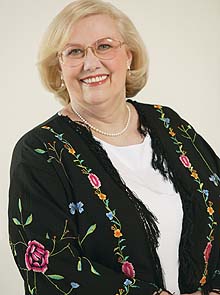 About Diana Palmer
An icon in western romance, Diana Palmer has been writing with Harlequin since 1980 and has published over 180 titles, with over 61 million books sold! When not writing, Susan's hobbies are gardening, knitting, crocheting, astronomy, archaeology and animals. She also has dogs, cats, birds and lizards.
Learn more about Diana at her website,
DianaPalmer.com
.
.
Diana Palmer's TLC Book Tours TOUR STOPS:
Monday, November 16th:
Life is Story
Tuesday, November 17th:
Mignon Mykel Reviews
Wednesday, November 18th:
Palmer's Page Turners
Thursday, November 19th:
Sharon's Garden of Book Reviews
Friday, November 20th:
Disheveled Book Blog
Monday, November 23rd:
Books a la Mode
– excerpt and giveaway
Monday, November 23rd:
Bookaholics Not-So-Anonymous
Tuesday, November 24th:
Majorly Delicious
Tuesday, November 24th:
Mom in Love with Fiction
Wednesday, November 25th:
Book Reviews & More by Kathy
Wednesday, November 25th:
Romancing the Readers
Friday, November 27th:
Sara's Organized Chaos
Monday, November 30th:
Read Love Blog
Tuesday, December 1st:
Hot Guys in Books
Wednesday, December 2nd:
From the TBR Pile
Wednesday, December 2nd:
Romancing the Book
Thursday, December 3rd:
Griperang's Bookmarks
Friday, December 4th:
Written Love Reviews
Monday, December 7th:
What I'm Reading
Tuesday, December 8th:
Romantic Reads and Such
Wednesday, December 9th:
Home Love Books
Monday, December 14th:
Cowboys 'n Country
My thanks to TLC Book Tours for including me on this tour and to Harlequin Books for providing the review copy. I was not compensated for my opinion.