January brings cozy mystery fans two new series that promise to be a lot of fun to read!
One, "One Foot In The Grove," is based in a Georgia olive farm, and the second, "Daisies for Innocence," is set clear across the country in a small California gold mining town. But both feature smart, sassy female leads, both have adorable dogs, and of course, both have a fascinating murder mystery to be solved.
Here is a little more about each book, and my thoughts ...
About The Book:
First in a delicious new mystery series about Eva Knox and her family's Georgia olive plantation.
In the sweet Southern town of Abundance, Georgia, home of the Knox family's olive farm, gossip isn't the only thing that can kill you...
After leaving a man at the altar for the second time in her life, Eva Knox decides to head home to her family's plantation to regroup and soak in some Southern charm. But hiding from her woes is a slipperier proposition than Eva imagined. For one thing, most people in town still haven't forgiven her for leaving local boy Buck Tanner at the altar and hightailing it up north eighteen years ago. For another, a death on her family's farm soon makes her the lead suspect in a murder case—and the sheriff investigating is none other than Eva's old flame Buck.
With the police putting the squeeze on her, it's up to Eva and her sisters, Pep and Daphne, to figure out who could have possibly left a dead body in their olive grove. And they'll have to catch the greasy killer quickly—because it looks like Eva has been picked as the murderer's next victim.
My Thoughts:
"One Foot In The Grove" is a charming Southern-themed cozy that features not one, but three amateur sleuths in the form of the Knox sisters. This makes for a whirlwind of a story!
I really enjoyed the interaction between Eva and her sisters, and I was especially intrigued with the setting of this novel - a Georgia olive grove. I didn't know they grew olives in Georgia! And I enjoyed the lively action as the three sisters work to figure out who was trying to mess with their family - and lordy, you don't want to mess with a Southern gal's family! They will all band together to make sure you don't do that again, and that is true in this novel! I think this is going to be a great series, and oh my goodness, do NOT miss the recipes in the back! Delicious and tempting!
About The Author: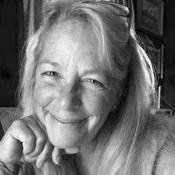 Kelly Lane
lives near Charlottesville, Virginia, and has worked as a writer, editor, and public relations professional. An active member of Sisters in Crime, she participates in professional writing groups and workshops. Kelly enjoys a Southern, agrarian lifestyle that includes preparing locally grown and artisanal foods for family and friends. At any given time, Kelly's pantry boasts more than a dozen kinds of olive oil, including delicious Georgia varieties. She'd be hard-pressed not to share with you a mouthwatering dish made with her favorite olive oils.
About The Book:
From Bailey Cattrell—who writes the
New York Times
bestselling Magical Bakery Mysteries as Bailey Cates—comes the first Enchanted Garden Mystery featuring custom perfume maker Elliana Allbright... The Enchanted Garden behind Elliana Allbright's perfume shop draws people of all ages with its fragrant flowers and lush greenery. But when the magical serenity is interrupted, it's up to Ellie to sniff out a killer.
Ellie's life has blossomed in Poppyville, California, since she opened Scents & Nonsense, a custom-made-perfume store. Her skills with aromas and botanical essences—some from her very own garden—seem almost…supernatural. Her perfumes can evoke emotions, bring about change, or simply make people happy. Customers are flocking to the store to buy her wares or just to sit in her beautiful garden, sip tea and enjoy homemade cookies.
But she smells trouble when she learns that her part-time assistant Josie is dating her ex. And before she can tell the young woman to beware of his charms, she finds Josie dead in the Enchanted Garden. Now the prime suspect in Josie's murder, Ellie must search for the real culprit in Josie's past—because it'll take a miracle to nip this problem in the bud.
My Thoughts:
I love gardening, so I was very interested in how gardening would figure into Bailey Cattrell's debut novel, "Daisies for Innocence." And I was very pleased to find that not only is the mystery intriguing, but the gardening described in this fun novel is fascinating as well.
The main character, Ellie Allbright, has an innate sense of what flowers and essences will help people emotionally, but this rare quality doesn't help out whenever Ellie's shop assistant is found dead in her garden. And what's more, Ellie is the prime suspect. As she works feverishly to clear her name and find the real killer, Ellie finds her friends in the small town she grew up in come to her aid in her time of need.
I loved the interaction between the main characters of this story, and I liked the first-person narration that author Bailey Cattrell uses throughout the novel. The tone is fast-paced, but thorough and the mystery of who-done-it keeps the reader guessing to the very end. (Plus I adored Ellie's Corgi dog Dash!)
This promises to be a series to look forward to in the future!
About The Author:
Bailey Cattrell
believes magic is all around us if we only look for it. After earning degrees in philosophy and English, she held a variety of positions ranging from driver's license examiner to soap maker. She traveled the world as a localization program manager, but now sticks close to home, where she writes, cooks, and tends to a dozen garden beds. Bailey resides in Colorado with her guy and two felines: Cheesecat the Orange and Minerva the asthmatic wonder kitty.
My thanks to Penguin Books for providing the review copies of these books. I was not compensated for my opinions.