I love Valentine's Day. I wish we could have it every day the year. Why? Because in my world, I call it "all heart's day," meaning that we treat others with compassion, not anger, not prejudice or any other dark, divisive human emotion.  
There's an excerpt from NIGHT HAWK, when Gil Hanford, the foreman of the Triple H ranch, unexpectedly meets Kai Tiernan. Both have had their heart's broken in the past in many different ways with one another.
"Gil put his hands on his hips, staring at her. "I'm the foreman."
Until…Gil disappeared out of her life without a word, a note or reason.  Her heart was shattered once again.  Little did she ever realize that years later, this time as a civilian looking for ranch work, did she ever think she'd ever meet Gil again.  But she did…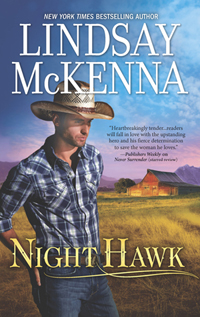 About Night Hawk (available wherever books are sold): After losing his comrade, Sergeant Gil Hanford thought a visit to the man's widow would be the decent way to honor his late friend. But Gil found more than comfort in Kai Tiernan—he had always secretly desired beautiful Kai, but a sudden, mutual passion helped assuage their grief…until duty reared its head, removing him from her arms, seemingly forever.
Four years later, Kai is starting over at the Triple H Ranch in Jackson Hole, Wyoming. Born a rancher, she is looking for a new beginning—but her new boss is unforgivably familiar. Kai has tried to move past the memory of what happened between her and Gil, even though she's never forgiven him for leaving her. But even as they begin their journey toward something new and oh-so-uncertain, a shadow emerges, determined to claim Kai for itself.
Purchase Nighthawk here:
About the author: Lindsay McKenna is proud to have served her country in the US Navy as an aerographer's mate third class—also known as a weather forecaster. She was the creator of the military romance subgenre and loves to combine heart-pounding action with soulful and poignant romance.
True to her military roots, she is the originator of the long-running and reader-favorite Morgan's Mercenaries series. She does extensive hands-on research, including flying in aircraft such as a P-3B Orion sub-hunter and a B-52 bomber. She was the first romance writer to sign her books in the Pentagon bookstore.
Today, she has created a new military romance−suspense series, Shadow Warriors,
which features romantic and action-packed tales about US Navy SEALs. Visit her online at lindsaymckenna.com, twitter.com/lindsaymckenna and facebook.com/eileen.nauman.
Check out this giveaway from Harlequin! The prize is for all 10 books, a special notebook, and a $50 gift card. Just click on the link!
·
a Rafflecopter giveaway
·
My thanks to TLC Book Tours for including me on this blog tour!