About Perfectly Broken
• Hardcover: 270 pages
• Publisher: Story Plant (March 8, 2016)
His rock star days may be behind him, but stay-at-home dad Grant Kelly's life is getting more interesting by the day. It's the beginning of the post 9/11 era, and he and his wife and four-year-old son have traded a New York City apartment for a Catskills farmhouse, where ghosts from the past, worries for the future, and temptations in the present converge to bring about drastic changes in their marriage, their friendships, and their family.
A gorgeously nuanced novel with unforgettable characters, Perfectly Broken is a story of human frailty, the endurance of the heart, and the power and possibility of forgiveness.
Praise
"Robert Burke Warren's sensory acumen and keen eye for detail – emotional and physical – make Perfectly Broken a wonderful ride. Fantastic, sharp dialogue and vivid characters, all in a distinctive, captivating voice. A stunning debut novel." – Rosanne Cash, multi-Grammy winner, author of New York Times bestseller Composed
"Whether writing about music, parenthood, or life in the sticks, every page crackles with been-there-done-that verisimilitude. At turns funny and suspenseful, heartwarming and heartbreaking, Perfectly Broken hits all the right notes, covering fame and fortune, love and death, success and failure, and fatherhood and marriage. A triumphant debut." - Greg Olear, author of Los Angeles Times bestseller Fathermucker
"Parenthood, adultery, love, lust, ambition, loss, friendships gone to seed, a marriage at the turn of this century in full tilt midlife madness, with rock and roll in the bones and on the soundtrack. Warren creates a sensory world so sharply observed, the experience of reading becomes visceral. It pulled me in and I didn't want to let go." -- Beverly Donofrio, author, New York Times bestseller Riding in Cars With Boys

Purchase Links
My Thoughts:
Having been in and around the music business for nearly 30 years, I was fascinated by Robert Burke Warren's story of a seemingly washed-up rock star dad and the life and people that revolve around his world. Warren gives a realistic, and often down and dirty accounting, of the experiences that his main character, Grant Kelly, goes through during a chaotic and crushing year of his life.
This novel is definitely for mature audiences, as there is language and adult situations to consider, which I personally didn't care for, however I realize that to portray the cast of misfits that populate this novel it is necessary to make them as "real" as possible. A story about a former rock star wouldn't be complete without a little sex and drugs!
But when you dig into this novel, the reader is rewarded with a gem of a story that will resonate with them long after the final page is turned. There is heartache, misery, and deep hatred - but there is also charm, laughter, and a lot of love that revolves throughout the story, and the ending is as satisfying as the amazing beginning.
Robert Burke Warren's writing in this debut novel shows his gift of storytelling in a great light. I look forward to reading more from this author!
About Robert Burke Warren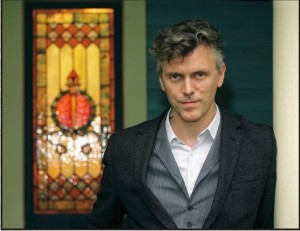 Robert Burke Warren is a musician and writer whose work has appeared in
Paste, Salon, The Bitter Southerner, The Good Men Project, The Rumpus, The Woodstock Times, Texas Music, Brooklyn Parent, Chronogram, The Weeklings
, and the Da Capo anthology,
The Show I'll Never Forget
. He lives in the Catskill Mountains with his family. This is his first novel.
My thanks to TLC Book Tours for including me on this tour and for providing the review copy of the book. I was not compensated for my opinion.