About All the Single Ladies
• Paperback:
400 pages
• Publisher:
William Morrow Paperbacks; Reprint edition (May 10, 2016)
In this fast-paced and evocative novel, beloved
New York Times
bestselling author Dorothea Benton Frank again takes us deep into the Lowcountry of South Carolina, where three unsuspecting women are brought together by tragedy and mystery.
Lisa St. Clair knows a thing or two about weathering storms. A dedicated nurse with a healthy sense of humor, she single-handedly raised her truculent daughter, Marianne, after her ex walked out on them twenty-four years ago, sending them a lottery ticket once a year as support. One day he reappeared and lured their daughter into a dubious but lucrative venture in Colorado.
Now mother and daughter aren't speaking.
So when Kathy Harper, Lisa's favorite patient, loses her battle with cancer, Lisa finds herself drawing closer to Carrie and Suzanne, the devoted friends who were always by Kathy's side. As these three women's lives inevitably connect, they share their concerns about men, getting older, and the horrors of maintaining financial stability. Suzanne's ninety-nine-year-old grandmother, a former chanteuse, offers unexpected perspectives on the mores of the day. Carrie's greedy ex-stepchildren are a chorus of cackling crows. And Lisa's mother just can't help herself as she henpecks her to distraction.
Somehow their conversations always return to the enigma of Kathy. Who was she? What did her short life mean?
As Lisa, Carrie, and Suzanne power walk the beaches of the Isle of Palms, they gradually uncover the truth of Kathy's life and unfurl plans to secure their own futures, as fate steps in to help them discover that being single doesn't have to mean being alone.

Purchase Links
My Thoughts:
I love Dorothea Benton Frank's books. You can count on them for several things -
1. Cast - always quirky and memorable.
2. Setting - South Carolina's Low Country - southern and sultry.
3. Plot - Fun with bits of heartache, a dash of romance, and lots of sassiness.
Dorothea's books are always great for summer reading, or for anytime reading, and I personally am always ready for her fantastic storytelling - she's one of my favorite authors! Grab this one for your book bag this summer - you'll be so glad you did!
About Dorothea Benton Frank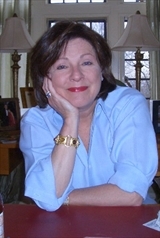 New York Times
bestselling author Dorothea Benton Frank was born and raised on Sullivans Island, South Carolina. She resides in the New York area with her husband.
Find her on the web at
www.dotfrank.com
, or like her on
Facebook
or
Twitter
.
Tour Stops
Wednesday, May 11th:
Books and Bindings
Thursday, May 19th:
Sharon's Garden of Book Reviews
Monday, May 23rd:
Back Porchervations
Wednesday, May 25th:
Mama Vicky Says
Thursday, May 26th:
Joyfully Retired
Thursday, May 26th:
A Wondrous Bookshelf
Monday, May 30th:
Queen of All She Reads
Thursday, June 2nd:
The many thoughts of a reader
TBD:
Lavish Bookshelf
TBD:
Tina Says…
My thanks to TLC Book Tours for including me on this tour and to Harper Collins for supplying the review copy! I was not compensated for my opinion.