Hardcover: 336 pages
Publisher: HQN Books (May 31, 2016)
A stolen boy
A haunted soldier
A cornered con woman…
Rafe Angelito thought he was done with the demons from his past—until his son is kidnapped. Blackmailed into abducting an American heiress, the legionnaire soon finds himself trapped in paradise with a fiery, daring beauty who's nothing he expects…and everything he desires. But when he uncovers her own dark secret, Rafe realizes he's made a critical mistake—one that could cost him everything.
Playing body double for a spoiled socialite was supposed to be Holly Ryan's ticket to freedom. But when she's snatched off her yacht by a tall, dark and dangerous stranger, the not-quite-reformed con artist will make a desperate play to turn her captor from enemy to ally, by any means necessary.
Yet as scorching days melt into sultry nights, Holly is drawn to the mysterious capitaine, with his unexpected sense of honor and his searing touch. When they're double-crossed, they'll have to risk trusting each other in ways they never imagined…because in this deadly game of deception, it's their lives—and hearts—on the line.

Purchase Links
My Thoughts:
I really enjoyed this action-paced, fast moving story of deception, deceit and ultimate delivery of a romance that wasn't expected! This is a fabulous debut for author Brynn Kelly!
"Deception Island" is part mystery/part thriller/part romance, and all a rollercoaster ride of a story! The characters are so unique and interesting, and the plot is amazingly suspenseful with a bit of fun thrown in with unexpected bits of humor here and there. This novel would be perfect for those sunny beach days ahead of us!
I highly recommend this novel for those fans of romance with a bite of thrill! I look forward to more good tales from Brynn Kelly!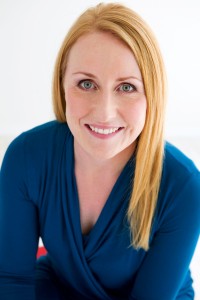 About Brynn Kelly
As a journalist Brynn Kelly once spent her days chasing stranger-than-fiction news reports. Now she spends them writing larger-than-life novels, in a happy bubble of fiendish plots and delicious words. Brynn has a journalism degree and has won several prestigious writing and journalism awards, including the Valerie Parv Award and Pacific Hearts Award. Her debut novel Deception Island was a Golden Heart finalist. She's also a bestselling non-fiction author in her native New Zealand.
Connect with Brynn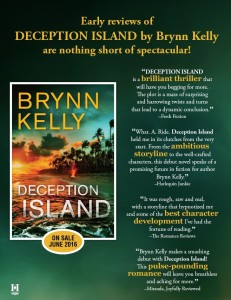 Brynn Kelly's TLC Book Tours TOUR STOPS:
Monday, May 2nd:
Bewitched Bookworms
Wednesday, May 4th:
Worth Getting in Bed For
Friday, May 6th:
Just Commonly
Monday, May 9th:
Read Love Blog
Wednesday, May 11th:
A Holland Reads
Thursday, May 12th:
Sharon's Garden of Book Reviews
Friday, May 13th:
From the TBR Pile
Monday, May 16th:
Books and Spoons
Tuesday, May 17th:
Books a la Mode
– author guest post
Wednesday, May 18th:
I Wish I Lived in a Library
Thursday, May 19th:
Patricia's Wisdom
Thursday, May 19th:
A Chick Who Reads
Monday, May 23rd:
Mom in Love with Fiction
Tuesday, May 24th:
Book Reviews & More by Kathy
– author guest post
Wednesday, May 25th:
Mama Vicky Says
Thursday, May 26th:
Romancing the Book
Thursday, May 26th:
Lilac Reviews
Friday, May 27th:
Write Read Life
Monday, May 30th:
The Romance Dish
Tuesday, May 31st:
The Sassy Bookster
– author Q&A
Wednesday, June 1st:
Rebel Mommy Book Blog
Friday, June 3rd:
Staircase Wit
My thanks to TLC Book Tours for including me on this tour and to Harlequin Books for supplying the review copy! I was not compensated for my opinion.