Paperback: 388 pages
Publisher: Terra Nova Books (March 15, 2016)
Once Upon a Lie
is about two strangers who become unlikely friends, only to unintentionally put each other's life in jeopardy.
Jaleel Robeson, a gifted, eighteen year-old black man, falsely accused of murdering his father in a small Texas town, is on the run. He assumes a new identity in 1980s Los Angeles as a successful student on his way to college.
Alexandra Baten, a restless sixteen year old white girl, lives in a privileged Toluca Lake family but feels trapped by her parents' values. One weekend, she rides her bike into a run down neighborhood, meeting a young black man selling lemonade. Thus begins a friendship between opposites, at least on the surface, but they learn they have more in common than they imagine.
Told from each character's point of view in alternating chapters, we become involved in a gripping tale of two Americas where discontent and violence always lurk under the surface. When they erupt, no one is safe.
Once Upon a Lie
is both a family drama and a crime drama, as well as an exploration of interracial love, mother-daughter relationships, and redemption through courage.
Connect with the characters
"French shows a skillful hand with characters' voices and dialogue, effectively capturing very different perspectives in both third and first person. The scenes of tension and suspense work well."– Kirkus Review of
Once Upon a Lie
"Michael French's writing manages to hook you immediately as he takes you on a magnificently layered journey that keeps you captivated all the way to the end."–D.G Domenici, Amazon Review of
The Reconstruction of Wilson Ryder
"[French] truly excels in storytelling by creating intricate, subtly complex relationships revealed through excellent dialogue. He has a firm understanding of a real conversation between two human beings and a refreshingly poignant approach toward the inner dialogue one has with oneself. You get the feeling that French has been there before, sympathizing not only with the reader but the characters as well."–D. Weber, Amazon Review of
The Reconstruction of Wilson Ryder

Purchase Links
My Thoughts:
Recently in my bible study, it was discussed that a lie, whether "white," small, or deliberate, is still a lie. And if you are going to lie, you better have a great memory to remember what the truth is and what the lie is.
Lies are a big part of the background of Michael French's coming-of-age novel, "Once Upon A Lie." French has assembled a great cast of personable characters for this strangely addictive novel. I found myself reading "just one more chapter" to find out what was going to happen in this fast paced story.
While this novel does feature younger characters, adults will find the actions of the adults in the story as fascinating as the teenagers, perhaps even more because it is their actions that spur the beginning of the whirlwind of events that end up changing everyone's lives.
"Once Upon A Lie" was an enjoyable read, and I highly recommend it for both young adults, and adults alike, who like a good, intriguing story with a touch of mystery.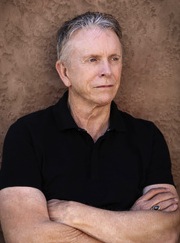 About Michael French
Michael R. French graduated from Stanford University where he was an English major, focusing on creative writing, and studied under Wallace Stegner. He received a Master's degree in journalism from Northwestern University. He later served in the United States Army before marrying Patricia Goodkind, an educator and entrepreneur, and starting a family.
In addition to publishing over twenty titles, including award-winning young adult fiction, adult fiction, biographies ad self-help books, he has written or co-written a half-dozen screenplays, including
Intersection
, which has won awards in over twenty film festivals. He has also had a long business career in real estate, living in Santa Fe, New Mexico.
His passions include travel, collecting rare books, and hanging with friends and family. He describes his worst traits as impatience and saying "no" too quickly; his best are curiosity, taking risks, and learning from failure.
Connect with Michael
Michael French's TLC Book Tours TOUR STOPS:
Monday, May 2nd:
5 Minutes for Books
Tuesday, May 3rd:
Books a la Mode
– guest post
Wednesday, May 4th:
Reading Cove Book Club
Friday, May 6th:
Bloggin' 'Bout Books
Monday, May 9th:
Hoser's Blook
Wednesday, May 11th:
Lavish Bookshelf
Thursday, May 12th:
Thoughts on This 'n That
Monday, May 16th:
Patricia's Wisdom
Wednesday, May 18th:
Sharon's Garden of Book Reviews
My thanks to TLC Book Tours for including me on this tour. I was not compensated for my opinion.